Parfums de Nicolaï Les Magnifiques (2008) {New Perfumes}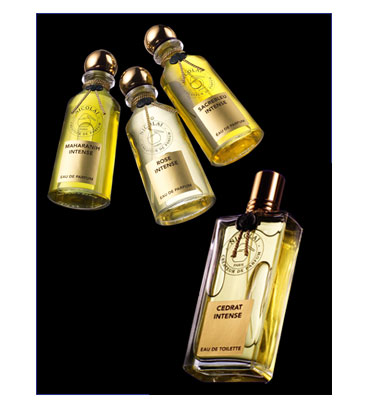 Perfumer
Patricia de Nicolaï
from
Parfums de Nicolaï
has released a new collection of perfumes called
Les Magnifiques
. It includes four fragrances in higher concentration forms bottled in more luxurious flacons. The quatuor includes reformulations of three previously issued compositions, Maharanih, Sacrebleu, and Cédrat and a new rose soliflore called Rose Intense (there is a Rose Pivoine in the catalogue).
When offering a new concentration for a perfume, the perfumer has to do more than just add more of the same. She or he needs to re-balance the whole composition and in this case offer an interpretation of intensity that can find support in the addition of new perfume notes meant to convey this idea....

Rose Intense features top notes of red fruits followed by rose essence, rose absolute, geranium essence, chamomille essence, then musky woodsy base notes.
Maharanih Intense has notes of orange essences, orange peel essences, rose essence, carnation, cinnamon, essence and absolute of patchouli, sandalwood, synthetic civet.
Sacrebleu Intense includes notes of mandarin essence, red fruits, carnation, tuberoses, jasmine, cinnamon essence, patchouli and sandalwood essence, Peruvian balm, Tonka bean absolute.
Cédrat Intense is derived from their popular eau de cologne. The top notes see the addition of Italian lemon essence, the heart offers pink pepper essence, the base reveals patchouli and opoponax absolutes blended with leather.
The 3 first scents retail 30 ml for 49 €, 100 ml for 115 € and the Cédrat Intense for 35 € and 85 €
You can read our review of Maharanih