Clairefontaine L'Eau Si Belle (2008) {New Perfume}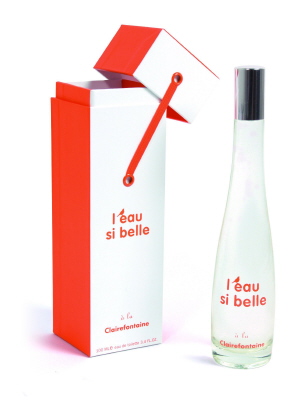 To celebrate its 150th anniversary, the French stationery brand
Clairefontaine
used by generations of dutiful pupils including this one, will launch a limited-edition perfume called
L'Eau Si Belle
. It is named after a quote from a famous old ditty entitled
A
La Claire Fontaine
, which also serves as the inspiration for the brand's logo representing a woman with flowing hair pouring water from a vase.....
The scent is described as featuring red fruits, citrus, and jasmine. The packaging designed by Fabrice Praeger is illustrated with a nightingale in reference to the song and held with a rubber band to allude to the universe of Clairefontaine.
The brand sees the unexpected conjoining of paper and perfume as a natural one after all as each are the support of our emotions.
Ah, nostalgie, quand tu nous tiens!
The perfume will retail in independent perfumeries, 100 ml for 52 €.
(via Orange.fr)