Guerlain Jasmin (1924/1928) {Perfume Review}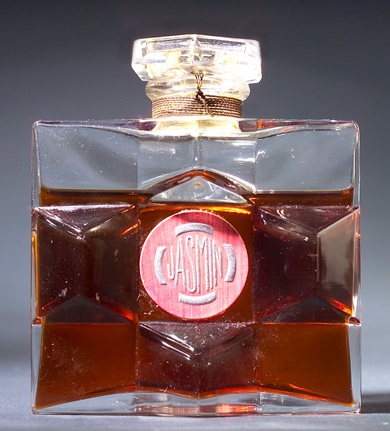 Guerlain Jasmin ca. 1928 Lalique glass from
Ragoarts
With the summer approaching, my nose has become, for some reason, curious of three notes in perfumery: jasmine for its solar opulence and at the other end of the light spectrum, anise and lavender for their pristine pale greenish and bluish coolness.
There was a Jasmin by Guerlain introduced in 1928, four years after Jasmin de Siam (1924) which is also at times referred to as simply "Jasmin", so further clarification is needed to sort these two out. There was also a Jasmiralda in 1917 by the same house. All these jasmine perfumes came out when the house was led by head perfumer Jacques Guerlain (1874-1963).
It was an era which resembled in some ways ours in that perfume launches were not hyper selective but rather fluid, following the fashions of the day, meant to bring a spark of seasonal excitement to the élégantes who were used to expecting the latest new scent, the perfume that was dernier cri. Has this practice ever drastically changed? One may wonder about this representation. Perhaps right after WWII and before the advent of mass travel and consumption, there was a perfumery that was de facto more rarefied and elitist for a relatively short period of time at the end of years of privation imposed by the war and immediate post-war restrictions. What has evolved surely is the growing shedding of casualness when presenting a brand new creation, but perhaps not so much the fashionable appeal of perfumes.
A testament to the practice of widely-accepted seasonal perfumery creations is the fact that many of the perfume bottles containing the new Guerlain fragrances were re-used as undifferentiated containers except for the names on the labels and colors of ribbons which facilitated a rapid turnover of new launches without the big fanfares we have become accustomed with, with apexes of spectacularly theatrical launches as those of Yves Saint Laurent Opium and Dior Poison in the 1980s. Having said that, one cannot but marvel at the variety of perfume flacons that Guerlain offered even if some were "recycled". Having experienced the undifferentiated Guerlain amphora flacons, it never felt like a lack of imagination on the part of the house but rather like a consolidation of its myth.
Jasmin by Guerlain was offered in a packaging of its own despite the fact that the composition is rather modest and feels more like a seasonal scent than a full-fledged composition. But then again it corresponded to a taste for soliflores.....
We procured some vintage Guerlain Jasmin in Eau de Toilette concentration. Due to age, lighter concentration and probably a good level of natural ingredients, it is rather fleeting (we do not know the year in which this particular batch was made). However before the top and heart notes fade away it is possible to jot down a few remarks about its main thrust, especially so as the simple composition is squarely that of a soliflore with not too many extra adornments.
Jasmin by Guerlain is not an extreme jasmine. It is a moderately indolic jasmine perfume, especially for noses used to stronger modern jasmine scents, or rather perhaps more correctly put, it is a transiently indolic jasmine betraying nevertheless a stylized forceful indolic push at the beginning which, physically speaking, subsides fairly quickly.
Jasmin is a warm and woody honeyed jasmine with blond tobacco nuances made slightly gentler and innocent with the addition of a lily of the valley note. The scent is a warm composition evoking well the simple pleasure of inhaling the aroma of jasmine around a garden terrace covered with terracotta tiles in the summer as together they exude a floral scent that is sunny, a bit dry, earthy, and just a tad fresh. The drydown smells of old dusty papers kept in a leather suitcase, with...is it a whiff of lavender? Expected for the times is a woody oakmossy base which develops with a suggestion of honeyed candied fruits gorging themselves with sunshine in a wooden bowl. The balsamic vanilla appears only very late into the longer drydown.
At one point when the perfume lets out the muguet note, it resembles Diorissimo for a few seconds.
The contemporary jasmine perfume that smells closest to this simple interpretation of a jasmine composition, to our knowledge, is La Reine Margot by Maître Parfumer et Gantier, created by Nicolas de Barry. It presents similar warm honeyed facets with an indolic accord that is felt more in its lingering beasts-in-a-cage-like base notes than top notes such as the more volatile gasoline-like nuances now enduringly associated with some jasmine compositions. La Reine Margot is much more sensual, rich, tenacious and developed although it explicitly offers this raw primitive touch as advertised by Maître Parfumeur et Gantier themselves in their effort at recreating a historic fragrance from the Renaissance in Europe. Going a little forward in time, you can smell the authenticity of this inspiration in a jasmine soliflore from the 1920s.