Scented Quote of the Day from Ashton Kutcher: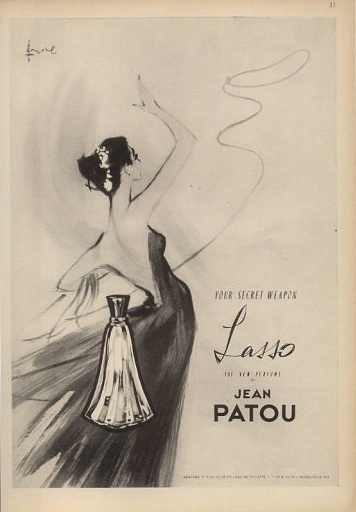 Here are some words of wisdom from actor Ashton Kutcher about perfume-wearing etiquette on his "woman", i.e., Demi Moore. Take it from a guy:
"If I can smell the perfume and we are not making out, then she is wearing too much. With a lot of things in life, more is better. But perfume does not apply.".....
Isn't it interesting that his statement completely invalidates the notion that a sillage or wake of perfume is what makes a woman even more attractive and alluring? It also nicely ties in with current sensitivities about perfume application in the public space, especially in North America.
See for contrast the 1958 advert by Patou who seems to use a fragrance named Lasso as a metaphor for the power of a seductive sillage.
Those differing views have always coexisted. What Kutcher seems to prefer is the effect of a so-called "skin perfume".