Amouage Lyric for Man (2008): Unusual Rose {Perfume Review & Musings} {New Fragrance} {Rose Notebook} {Men's Cologne}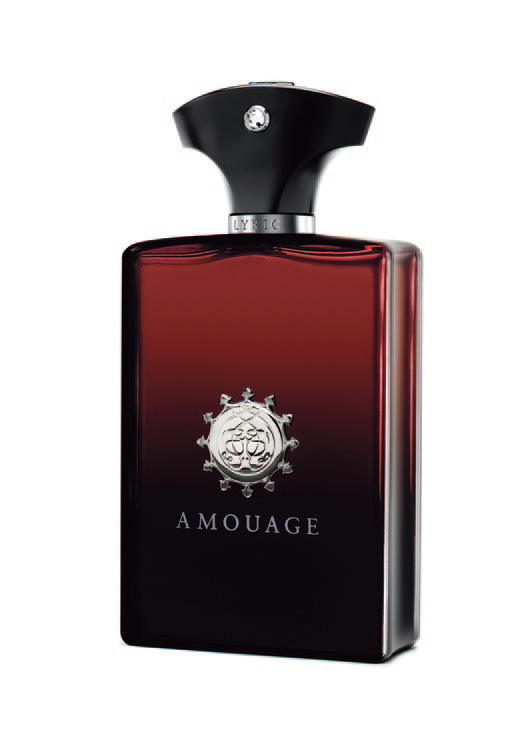 Lyric for Man by Amouage
The Skinny:


Perfumer: Daniel Visentin
Artistic Director: Christopher Chong
Gender label: masculine, but easily adopted by women
Notes: top: bergamot, lime; heart: rose, angelica, orange blossom, green galbanum, spicy ginger, nutmeg, saffron; base: pine, sandalwood, vanilla, musk, frankincense
Characteristics: a fresh and warm, dark and transparent green spicy rose oriental fragrance with a sustained aqueous facet and discreet powdery one.
Personality: subtle, elegant, offbeat
Wearability: very easy for a woman, easy for a man
Price point: $$$; worth it. Exceptional lastingness and diffusion
Bottle: an almost black-red glass (darker than on the picture) and a lighter black plastic cap than on the women's flacon but without feeling flimsy. Here the Swarovski crystal appears on the face of the cap and a crown motif appears on a metal appliqué on top of the cap.
Perfumes discussed: Penhaligon's Hammam Bouquet, Czech and Speake No. 88, Un Jardin Après La Mousson, Fabergé Brut, Yves Saint Laurent Paris, Lyric for Woman, Yohji Homme.



Lyric Rose, The Men's Version - and Gender

Amouage, as is their habit, launched at the same time a duo of fragrances for women and men which in this case turns out to be a dual homage paid to the rose. Their being a perfume house shaped by the culture of the Middle East (and that of Oman in particular), it was interesting for me to anticipate how the creative team would work on a masculine version of a rose perfume that would be made, in principle, to stand a few degrees of virility apart from the feminine version while, one could surmise, taking into account the cultural heritage of the rose traditionally considered to be a popular scent in Arabian men's perfumes. By opposition, modern Western perfumery broadly defined tends to interpret the lushness and floralcy of the rose scent, whenever it is showcased prominently, to be women's appanage; it was not so in the 19th century (see for example the literally sulfurous Penhaligon's Hammam Bouquet) and even today Czech & Speake No. 88, a men's perfume showcasing a dark even sombre incensey rose belying these proclivities. It may be due perhaps both thanks to the colonial history of Great Britain and the country's traditional inclination for floral fragrances including soliflores that this cultural perception of the intensity of the rose otto was never completely forgotten. For it is a given that the rose in such cases will be masculinized.

The Western history of beauty reinforces the feminine attributes of the rose as this most desired and cultivated of flowers has been made to become in the end a stereotypical symbol of feminine beauty since the antiquity when the rose was sacred to Aphrodite. In the Islamic tradition however, the rose aroma has been exoterically endowed with religious meaning, and if there is any gender association, it might be considered to be just as masculine as feminine through its connection with the figure of the Prophet Mohammad. It is thus said that the emanations of the rose are derived from the very sweat of the Prophet who invites "whoever" wishes to smell his person to drink it in. According to this tradition he expresses his own transfigurative mystical experience by referring to the intoxicating olfactory power of the rose, pointing at the same time possibly to a favorite perfumery accord: rose and musk,
"When I was taken up into heaven, some of my sweat fell upon the earth, and from it sprang the rose; and whoever would smell my scent, let him smell the rose."

The mystical use of the rose trope to express the exquisiteness and ineffability of the divine, further popularized by images of Sufi poetical transcendance. It carries therefore a priori an universalistic message despite the fact that Arabian feminine beauty, as in the West, is also unavoidably and classically compared to that of the rose. Of the rightly-named Rose-in-Bloom in the 1001 Nights, it is thus said that
"her name was Rose-in-Bloom; and the reason of her being so named was her excessive delicacy of beauty and her elegance."...
October rose by Catmadogma: this picture is cool and warm like the perfume with a similar effect of watery transparency

Since Amouage has a clientèle both in the East and the West, one might expect a gender twist of some sort. Their masculine scents are also, again contrary to the general tendency in Europe and the States - which is, incidentally, evolving - usually no less sophisticated than the feminines, and even sometimes actually more so. A case in point in my view is their classic Gold for men which is even more compelling than their Gold for women although both are wonderful. Due to the tradition of Oriental opulence and the wealth of what we consider to be "feminine" floral notes in scents casually worn by Arabic men, the Amouage masculines arguably can be interpreted, from the Western standpoint, as being über-feminine with just that dose of intensity and angularity that can turn them into even more spectacular feminine fragrances.

Judging from the video commercial (see their site) issued for the launch of the two Lyrics it appears that Amouage is playing up the contrast of manly and womanly.


The Review


Lyric for Man is described in the following manner: "Evoking the sombre sound of eternity this spicy oriental is a dedication to the rose infused with angelica." The surprise for me comes from the light and transparent facets of the scent and more generally speaking from its unusual, slightly disorienting character despite familiar references. A little bit like for Un Jardin Après La Mousson, it is a perfume that manages to be an ensemble of quotes while adding something new and creating an original experience. It is perhaps not by mere chance that this effect is allowed in both cases in part by an insisting aqueous facet that upends the sense of familiarity (the expected oriental becomes a fresh oriental of sorts) and creates a transparent and opaque contrast, a cool and warm opposition. Having said that and having smelled the perfume on my resident male tester who turns it into an uncomplicated yet subtle incensey rose composition with green facets and declares it "nice-smelling" - although he declares to normally prefer to smell like an " old saddle" - I am wondering about the ambivalent benefit of smelling a scent too up close.

Near the cap the scent feels vaguely familiar; I realize after a while that the smell is reminiscent of YSL Paris (rose, violet, aldehydes) but with cedar: rose with pencil shavings.

The perfume opens on a complex, strong musky, indolic-rubbery, and dark green leek-y impression, due in part to a hefty dose of galbanum with mastic it seems (the leekish smell), which immediately sets somehow a masculine atmosphere of garage, car grease, and formula 1 race for me but made more nuanced and softer thanks to light aquatic floral facets. It is a rather unusual combination both in the context of masculine fragrances and on its own because it seems to play with a collage of distinct families of smells rather than seek familiar accords. In the depths of this accord one suddenly catches a glimpse of a very green bottle of fougère perfume sitting on the edge of a bathtub: Brut with its green soapy foresty notes (the pine note in the base).

The scent which develops is woody, aquatic and floral at the same time playing on a contrast between opacity, darkness, and transparency, even a crystalline quality in the far drydown. The perfume is lightly sweet like dissolved caster sugar in water as if there were a suggestion of scented and sweet rose-water poured from an ewer; water can be called "sweet" figuratively in reference to the value attributed to water in a desert culture and to distinguish it from sea water; scented waters are used to wash hands. It becomes redolent of green notes and pepper for a little while. Nuances of blond hay and doughy iris come into play always lightened up by an aqueous sensation that is never marine or obviously Calon-y. When smelling different stages of the perfume and contrasting them you realize that the rose in Lyric Man is a strong musky rose although it actually feels much more like an incensey rose when smelled more naturally.

One of the things that are slightly disorienting in this perfume are the different shades of green: lime, galbanum, mastic, angelica, pine.... They do not blend but offer their distinct nuances. The softness of the scent and its transparency, which are contributing elements rather than main effects when smelled casually, also displace your perception of gender limits.

Contrary to the women's version that seems to fold in the rose, here the flower becomes more distinct overtime especially in the very long drydown: Lyric for Man possesses outstanding lastingness and diffusive power, without being obtrusive. But before that prolonged felicitous conclusion and as the scent enters oriental creamy woody territory, one is reminded of Yohji Homme, its contrast of coolness and warmth, its slightly discrepant greenness. This is another reason yet to enjoy Lyric for Man, irrespective of any hard-sticking gender label.