Hermès Un Jardin Après La Mousson (2008): A Strange, Original Tapestry of Familiar Accords {Perfume Review}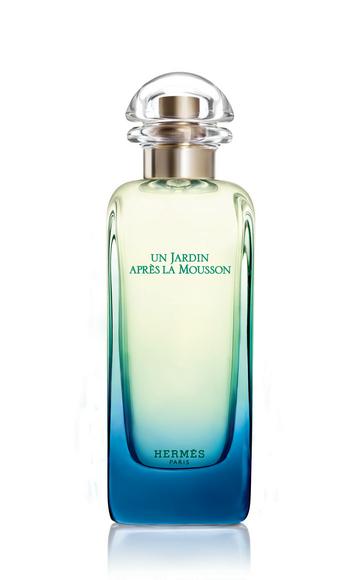 Hermès Un Jardin Après La Mousson - A Strange, Original Tapestry of Familiar Accords
Perfume Review
Un Jardin Après La Mousson is the latest and third fragrance installment in the Jardin series proposed by Hermès and created by in-house perfumer Jean Claude Ellena. Following Un Jardin en Méditerrannée and Un Jardin sur le Nil, Un Jardin Après La Mousson (A Garden After The Monsoon) aims to capture the spirit of a place and lift a stone of the vegetable world that was left unturned. Hence the concerted effort, like that of some painters' - Gauguin comes to mind but perhaps even closer to Ellena's world, Cézanne - to travel or go to the mountain (Mont Victoire) - and observe the world in a different light.
Like its scent predecessors, Un Jardin Après La Mousson is based both on original empirical impressions garnered in situ by displacing the perfumer to a more or less distant locale and - if we are to believe Ellena in the end - but a place discarded in order to make room for the perfumer's own free movement of interpretation; he recently said that he does not care about reality.
Despite this pronouncement, to be clarified, usually what Ellena retains from his peregrinations is a novel, out-of-the-ordinary smell that will anchor his composition. For Bois Farine by L'Artisan Parfumeur, it was a a tree in the Reunion, a species whose red flowers diffuse a flour-like aroma.
The fragrances in the Garden Series all showcase a fleshy fruit (fig/prune, mango, cantaloupe/watermelon) that gives way to a transparent, watery impression. With the latest Un Jardin Après La Mousson, the least easy and most complex of the garden scents, one encounters a delightful realignment of well-known ideas and sensations that gives in the end an unexpected and very original fragrance. The variegated nature of the scent, yet its harmonious tonality, make you think of a kaleidoscope reshuffling white, transparent, green, and blue crystals -- the colors of Impression, Soleil Levant.
The felt plurality of the sources of the inspiration conjures up the vision of a page from the Moleskine notebook Ellena uses and in which different ideas are noted down and worked upon. The result is very idiosyncratic and full of perfumery quotes. The scent is in a Hermès bottle, but could easily be poured into a Comme des Garçons one instead and touted as avant-gardiste.
Ellena has made apparently contradictory statements about his more or less essential need for nourishment coming from the real world. There is for him a need for an olfactory trigger of inspiration on the one hand - the aromas of teas at Mariage Frères (Eau Parfumée au Thé Vert), the natural licorice-y facet of turmeric (he could have used it for Brin de Réglisse had he encountered it sooner), the smell of a grove of green mangoes in Egypt, or fig leaves on a tray at a cocktail party in a Mediterranean garden - and his professed absolute disregard for slavish olfactory copies of the empirical world on the other hand.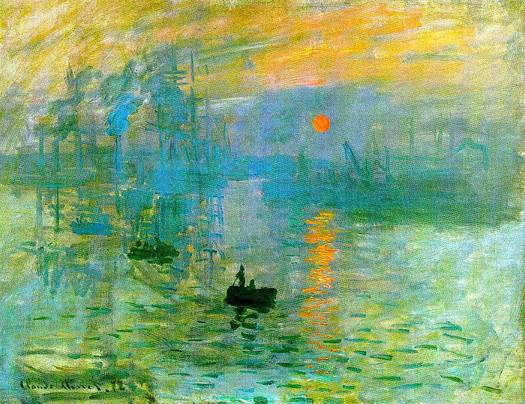 Impression Soleil Levant, the painting that gave its name to Impressionism
One way to understand the seeming fundamental tension that Jean Claude Ellena seems to point to in his relationship to the natural world - both seeking it out and rejecting it - is to liken his approach to that of Marxists..... just kidding......the Impressionist school of painting.
Like these painters, who were mobile painters, the perfumer feels an urge to come in direct contact with the objects he will paint, look for them in open places, dig them out perhaps more so since olfactory objects can be unseen and are less well known and catalogued. Try knocking on the door of the local tourism agency and asking them what is there to smell in the region? - and in the end filter them through his own impressions.
The watercolor-like texture of his Jardin perfumes invites this comparison further, making you think of the lilies on a pond series of Claude Monet and suddenly making you realize also that the vegetal motif on the packaging of Un Jardin sur le Nil is not unlike them.
Monet was after all dubbed a poet of gardens and water. Next, a composition centered around the garden of Giverny would seem appropriate and natural. However, according to Le Nouvel Observateur, Un Jardin Après La Mousson "brings the water trilogy to a close,"...
Appreciating Ellena's perfumes better therefore requires filling in some of the gaps, or alternatively, not caring about what the perfumer may have said about his own compositions.
The latter approach seems difficult to take as Ellena's commentary on his perfumes - supported by a policy of active Hermès PR outreach to journalists - is so much part of his approach to perfumery that one might wonder if one's perception of his work would not be significantly modified if there were not this perpetual discursive effort on his part about his fragrances.
This intuition is supported by the experience of feeling world-weary while reading one of his numerous interviews. Ellena at times seems to be just trying to sell himself and offer another mercurial angle through which to engage his perfumes rather than deepening what he previously said elsewhere.
His latest perfume suddenly seems less interesting, paradoxically, after reading one interview, than prior to reading it. It is probably best to go back to the original impressions offered by the scent.
The Ellena phenomenon is thus also that, perhaps more so than with any other living perfumers, his scents do not come innocently presented to you in bottles, but are usually encapsulated in paragraphs and maxims about perfumery creation, sources of inspiration, and are thus made more narrative in their forms thanks to these appended details.
With Un Jardin Après La Mousson, we can, not only smell his creation, but follow him on a journey through Kerala by reading his travelogue (see earlier post).
Ellena elsewhere also offers another clue, explaining that he essentially wanted to capture the smell of water, sounding Giacobetti-like. The gist of the following quote is that a marine water accord is easy to create, but that suggesting the smell of water is more difficult.
«J'ai vraiment voulu rendre l'odeur de l'eau. Pas une odeur marine, ça, c'est facile, mais l'odeur de l'eau, insiste-t-il. Comment pouvais-je la suggérer? C'était toute la difficulté et tout l'intérêt de cette composition.» (Obstyles 5/15/2008)
The spareness of some of his compositions, but not really in this Mousson case, seems to require this complement of explanation in order to be fully appreciated. It reminds you of this experience of looking at a picture of a raw blue corner of the sky at an exhibition at Centre Georges Pompidou and then discovering a long text hung in parallel next to it that gives you the analytical keys to the a priori invisible complexity of the picture. The commentary adds value to the oeuvre and is needed to evaluate the intricacies of the thought process that went into the photography of an empty sky because the art is conceptual. Otherwise you might just mistake it for the simple representation of a portion of Cerulean blue - and start looking at the shapes of clouds to look for hidden meaning. Instructions are needed and provided by the artist.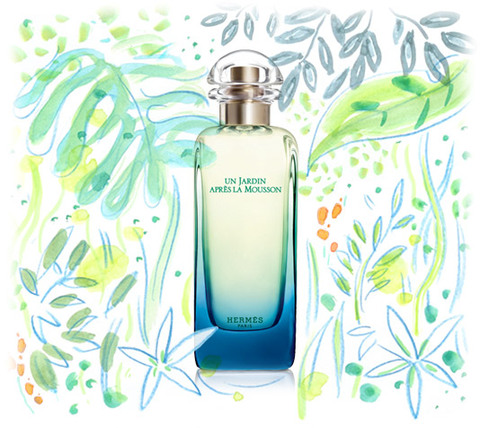 How it Smells
Un Jardin Après La Mousson feels, to some extent, recomposed rather than composed. This is not just a play on words. It translates the feeling of discerning some of Ellena's obsessions and leitmotivs. The perfume is a very original, patchwork-like composition which finds unity in Ellena's vision.
From the vantage point of the watery motif, if offers a notable variation on it by introducing a lactic, milky sensation that makes the perfume feel both aqueous, transparent and cloud-like. The fruit that is showcased here - a green cantaloupe going at times in the direction of a buttery watermelon - is fluidly delineated as an impressionistic fruit can be.
Mousson opens on a perfume quote that appears to be a nod to Le Parfum de Thérèse by Edmond Roudnitska - admittedly Ellena's spiritual master - with its green melon-y and peppery accord. The quote is a homage uttered quickly, a wink of the eye - and the fragrance soon becomes fast-moving revealing more pungent woody notes of cedar wood, it seems, although a special vetiver accord is mentioned; cumin - and you enter into a wonderful leathery, floral, and milky impression with a mineral, grey silex-like undertone.
These notes are reminiscent of Ellena's work for Déclaration (Chai-like cardamom tea) and Terre d'Hermès (mineral flint stone). It can also evoke a bit more indirectly the Indian-dessert impression of Sira by Patou. And last but not least, it can be seen as a cold and green rendering of Le Feu d'Issey with its hot spicy milk concoction.
The surprise here is the lactic texture weaved into the watery one - and the choice of a green melon note/buttery watermelon one - which seems to have more to do with a personal reference than Kerala. We were warned.
Real watermelon has a natural buttery facet which is emphasized here by the creamy background that feels like one of those Chinese white milk caramels. This natural buttery nuance was well picked on in the foodways of the Turkmens of Central Asia, which I studied, who like to eat for breakfast in the summer a mashed mix of watermelon and fresh butter as a sort of jam.
This main accord is very original. It plays upon a sensation that is a bit difficult as it is a bit sweetish, sickening - but very interesting. There is even a not-too mainstream plasticky nuance. At this stage Comme des Garçons' experimentations with odd smells come to mind.
Mousson also offers a slight Calone edge. The green-milky sensation becomes more precise and one can visualize a slice of green melon. Suddenly an impression of hard and round petal, of sappy tubular flower stems emerges from milk Nirvana.
The floral note that is advertised for the perfume is that of Kahili Ginger flower (Hedychium Gardnerianum but given as Hedychium Coronarium by the Italian ad copy) also called Hardy Ginger Lily or Longose in French which has a butterfly-like shape, is native to India - and reportedly smells like Bush Honeysuckle (Lonicera Spp.). The scent also features a ginger root note that contributes to the coolness of the scent.
UJALM is a fuller-bodied Jardin perfume that gains in transparency as it dries down. Its incongruous personality conjures up the strange vision of a rugby leather ball enclosing a fresh juicy cantaloupe and sprinkled with a dash of pepper. Jean Claude Ellena proves himself to be capable of strangeness. It is a must-have, from a perfumery perspective.
Take-Away
Un Jardin Après La Mousson is the most original of the garden trilogy at the risk of being perceived as unappealing. It stands on its own, even without the Kerala story, even better without it in fact - and could even be made less interesting as it is made to cohere exaggeratedly with the monsoon narrative.
The latest Jardin scent is first and foremost a personal work, where the internal references matter more than the external ones.
Notes: cardamom, coriander, pepper, Kahili ginger, ginger, vetiver accord.
The unisex Eau de Toilette is currently exclusively available at Saks, Hermès boutiques, and online 50 ml for $95 and 100 ml for $125.