Estee Lauder Amber Ylang Ylang (2008): Cosy Cashmere Throw {Perfume Review} {New Fragrance} {Advert}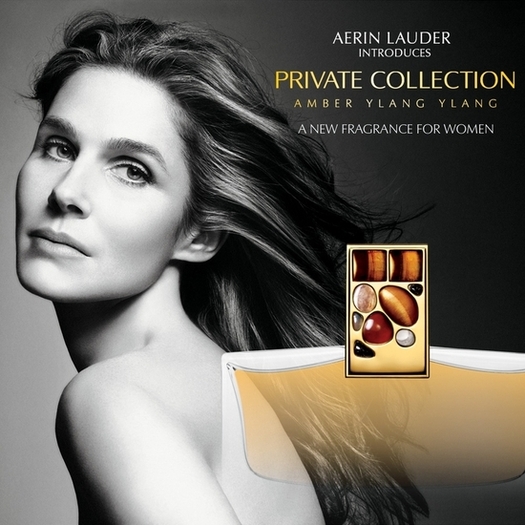 Estée Lauder Amber Ylang Ylang Eau de Parfum


The Skinny:

Perfumers: Honorine Blanc and Annie Buzantian
Artistic director: Aerin Lauder
Gender label: feminine; men could make it their own if they care to remember Macassar oil
Notes: Italian Bergamot, geranium oil, cinnamon SFE, Golden Amber, Ylang Ylang absolute, Bulgarian Rose absolute, Honey, Incense, Vanilla and Sandalwood.
Characteristics: modern soft ambery oriental with slightly old-fashioned styled florals
Personality: soft, sensual, warm, courteous, graceful
Wearability: a cinch
Price point: $$ (Eau de Parfum) and $$$ (extrait)
Bottle: "The parfum bottle cap is adorned with semi precious stones of tiger eye, smokey quartz and red agate. The eau de parfum bottle cap was inspired by an exquisite hammered gold necklace and matching bracelet Aerin received as a gift from her grandmother Estee."
Perfumes discussed: Estee Lauder Intuition, Yves Rocher Voile d'Ambre (just for pointers), Bourbon French Parfums Heliotrope


Estée Lauder Amber Ylang Ylang is the second installment in the Private Collection series inaugurated with Tuberose Gardenia last year. The Private Collection is the equivalent of the concept of the private reserve for luxury alcohols. It aims to bring an enhanced experience of refinement to customers by paying more attention to the raw materials used, letting them speak for themselves.

It is apparent to me now that the collection bears the personal mark of Aerin Lauder: Amber Ylang Ylang just like Tuberose Gardenia bespeaks of a certain brand of soft femininity and social grace. Exotic flowers that could be let loose as unruly, heady and erotic (tuberose; ylang ylang) come here to adorn perfect decoration-magazine pages (or silver-screen imagery) letting go of their reputation for unpredictability in exchange for a touch of gentility. Instead of using the word "polite" I want to use the term "courteous".

Aerin Lauder explained the inspiration for the perfume,


"To me, a perfect evening is a private one, spent at home with family and friends. So the fragrance captures the essence of an enjoyable evening in a warm, inviting room filled with the luxurious textures of wood, velvet and cashmere. "Private Collection Amber Ylang Ylang represents the relaxed intimacy and quiet comforts that we love to come home to at the end of the day."

And again,


"For me, there is nothing more inviting and warm than rich browns and gold - brown velvet
couches, gold accents in lamps, tables, vases and frames,"...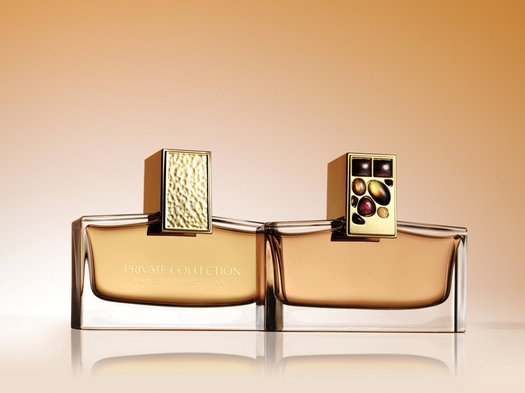 What I find interesting also, reading the press release, is to see a public confession of derivative quest, as Amber Ylang Ylang "...subtly evokes the legendary fragrances of the past yet invites you into an intimate, private world of today."

The touches that, to my nose, are more of the past are the ylang, ambergris and heliotrope; the latter is surprisingly present and well-delineated. But the structure of the scent feels modern as it is on the linear side and cultivates an uncluttered style. The perfume is like an elegant and comfortable cashmere throw sitting next to a bouquet of subtly heady flowers. Nothing more, nothing less.


Scent Description


Amber Ylang Ylang first captures your attention with its very sweet, honeyed, resinous and animalic facets but all expressed in a muted fashion. The citrusy bergamot and grass-blade-like geranium I paradoxically smell better later on.

The ylang flower can distill a very erotic scent but in this case it has been toned down to keep some of its characteristic aspects such as its camphoraceous, inky, medicinal or phenolic facet at a low concentration. Chemists also note the characteristic presence of sweet-smelling esters in ylang ylang. The sweet facet of the perfume has been accentuated, the vegetal amber seeming to hesitate between smelling of honey, labdanum, and light maple syrup; a touch of coffee later in the dry-down adds another burnished hue to this chamber music for gilded browns. The floral notes are enlivened by bergamot and warmed up by a balsamic, vanillic depth. A powdery animalic ambergris facet appears. A nice, nuanced and slightly old-fashioned note of dewy, even wet almond-y heliotrope comes into play, very reminiscent of a simple heliotrope soliflore from Bourbon French Parfums.

As the scent unfolds the texture becomes more resinous-ambery offering a soft glow. The creative team wanted the perfume to evoke the soft glow of candlelight and it does (tuberose gardenia also offers this luminous glow). What is pleasant is to see a bouquet of flowers, ylang ylang among them, emerge from the liquid golden honey pool transforming warmth into freshness.

Amber Ylang Ylang is most reminiscent to me of another one of Estée Lauder perfumes, Intuition for Her by Alberto Morillas. It has the same soft, understated ambery aura. But where the diffusion of Intuition seems very calculated and is a veritable technical achievement in the art of the discreet sexy sillage, Amber Ylang Ylang is simpler in its aim to warm you and make you feel comfortable with just a suggestion of golden-skin Mata-Hari, albeit safely held captive in between the leaves of a good adventures novel.

Private Collection Amber Ylang Ylang will be available in North America and internationally
beginning November 2008. The collection is made up of:

Suggested Retail Prices
Parfum Spray, 1oz. $300.00
Eau De Parfum Spray, 1oz. $65.00
Eau de Parfum Spray, 2.5oz. $120.00

Private Collection Amber Ylang Ylang is available for purchase at www.esteelauder.com and specialty doors Saks Fifth Avenue, Neiman Marcus, Bloomingdales and Bergdorf Goodman.