Fresh Patchouli Pure & Tobacco Caramel Alive Again - Fragrance News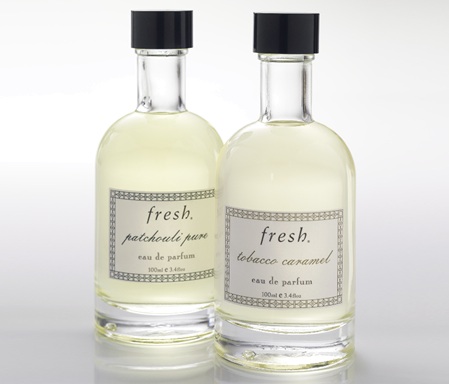 Fresh
has re-edited two perfumes from their catalog in the Index collection,
Patchouli Pure
and
Tobacco Caramel
originally introduced in 2001 and 1999 respectively. They were discontinued two years ago and are back by popular demand. Tobacco Caramel, in spite of its reference to the voice of Billie Holiday, is explicitly billed as an unisex scent.
Patchouli Pure is an "An intoxicatingly fragrant blend of ginger, patchouli, cinnamon, and vanilla."
Tobacco Caramel is "Infused with voluptuous notes such as tobacco flowers, French tarragon and rich amber."...
About
Patchouli Pure
,
Lev Glazman "...created Patchouli Pure Eau De Parfum to evoke the romance of an evening encounter -- full of lust, passion, and the enveloping scent of incense that flows through open windows on a balmy night.
Formulated to be a deep, intoxicating fragrance, Patchouli Pure EDP evokes the richness of velvet, the dreaminess of silk, and the lushness of rare red wine. Its exotic notes are tempered with light, flowering bergamot and bright orange, creating a balanced scent perfect for men or women."
Notes:
Top: ginger, bergamot, orange
Heart: patchouli, cinnamon, pimento berry
Base: vanilla, amber, tonka musk
About
Tobacco Caramel
,
It evokes "...the dapper sophistication of the 1940s. Inspired by the soulful voice of Billie Holiday, the fragrance is meant to embody a sense of luxury, leisure, and casual elegance. Notes like tobacco flowers, French tarragon, and rich amber conjure up images of perfectly tailored suits and breezy evening gowns, as men and women linger over drinks, their bodies brushing against each other in the perfumed air.
Notes:
- Top: tobacco flowers, mandarin, French tarragon
- Heart: honey, Damascena rose, Chinese osmanthus
- Base: caramel, rich amber, musk
Each 100 ml eau de parfum is priced at $75.