Jo Malone Pine & Eucalyptus (2008) {New Fragrance}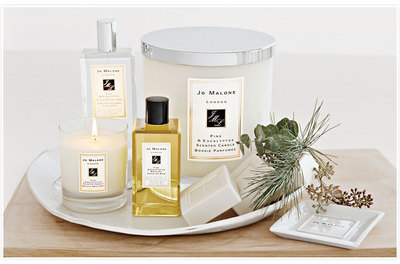 Jo Malone
have launched a new scent called
Pine & Eucalyptus
, in a limited-edition collection of fragrances for the home and body; the Living Cologne doubles as both a home and skin perfume. Other products are a home candle, luxury candle (with 4 wicks), bath oil, and bath soaps...
"Savor the season with Pine & Eucalyptus, a limited-edition scent from Jo Malone that captures the essence of winter. The crisp aroma of sweet pine is woven with velvety eucalyptus to create a revitalizing fragrance. A first-of-its-kind, Living Cologne is a brilliant way to scent your skin and extend to infuse any environment."


Complimentary 15 ml of orange blossom shower gel with code JMPINE at checkout. Complimentary standard shipping and two samples of your choice. Valid through 11/9/2008.