Penn State, North Carolina U The Fragrances by Masik (2008) {New Perfume}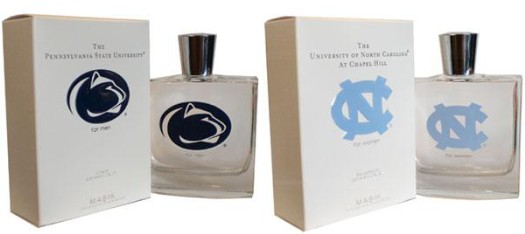 Masik Collegiate Fragrances
founded by the Masich family in 2007 and headed by president and CEO Katie Masich who is visibly passionate about her brainchild is a company specializing in perfumes inspired by colleges and universities.
From the descriptions, the perfumes sound as if above-average attention was devoted to them, rather than just being commercial pretexts.
Their latest composition is inspired by Pennsylvania State University, its colors blue and white and some of the smells (all nice ones) that linger or are supposed to linger in the air around the campus.
"Harrisburg-based Masik Collegiate Fragrances developed the scent and says the Penn State perfume exudes vanilla, lilac, rose and white patchouli. The company says the cologne smells of blue cypress and cracked pepper vapor."...

There is each time a men's and women's version.
About the philosophy and practices of the brand:
"Masik was extremely meticulous about how they created the scent for each school. They wanted to ensure their perfumers had a clear vision of what each school represented. As a result, Masik conducted campus visits, discussions with students and alumni and a significant amount of research. In the end, the following distinctive characteristics served as inspiration for each university's "signature scent":

School colors
Mascot spirit
Traditions and history
Landmarks and architectural style
Campus trees and flowers
Mission statements
College town character
Themes in the alma mater and fight songs"
About
Penn State cologne for men
:
"A "signature scent" exclusively created for The Pennsylvania State University. Inspired by the Iconic Blue and White, the Grace of Old Main and the Loyalty of the Nittany Lion. Classic, Elegant and Passionate.
Penn State for Men conveys a classic and refined style. The fragrance exudes Penn State blue and signifies masculinity, passion and honor. The fragrance opens with the freshness of Italian bergamot and chilled gimlet accord. The middle note combines the coolness of blue cypress with the subtle spice of cracked pepper vapor. The base notes end with a deep black amber and cool moss. A new classic for the proud Penn State man.
Fragrance Notes:
Top: Armoise, Italian Bergamot, Fresh Juniper Berries, Chilled Gimlet Accord
Middle: Violet Leaf, Blue Cypress, Cracked Pepper Vapor, Clary Sage, French Lavender
Base: Vetiver Haiti, Cool Moss, Black Amber, Indonesian Patchouli"
Penn State perfume for women
:
"Penn State for women is an elegant and timeless creation. Graceful and Pure - Inspired by the beauty of Old Main. The top notes glisten with an elegant sparkling cassis. The sensual middle notes consist of Moroccan rose and evening lilac. The fragrance concludes with a lovely oriental vanilla, amber and Tahitian tonka. A sheer, sparkling fragrance for the classic Penn State woman.
Fragrance Notes:
Top: Sparkling Cassis, Raspberry Blossom
Middle: Star Jasmine, Moroccan Rose, Dewberry Blossom, Evening Lilac
Base: White Patchouli, Amber Resin, Bourbon Vanilla, Tahitian Tonka"
Masik has already developed a scent for the university of North Carolina and next plans to launch perfumes inspired by the universities of Florida, Georgia, Alabama, Tennessee, Auburn U, Louisiana.
North Carolina for men
:
"A "signature scent" exclusively created for The University of North Carolina at Chapel Hill. Inspired by the Beauty of the Old Well, the Reverence of the Tar Heels and the Undeniable Allure of Carolina Blue. Charming, Legendary and Irresistible.
UNC for men is a light and crisp fragrance that embodies alluring Carolina Blue in a bottle. The fragrance opens with fresh Sicilian lemon and bergamot. The aromatics extend with lavender and the subtle spice of sensual white pepper. The base notes combine a soft white amber and tonka bean. An irresistible and fresh creation for the proud Carolina man.
Fragrance Notes:
Top: Neroli, Sicilian Lemon, Cardamom, Crisp Bergamot
Middle: Iced Juniper, Lavender, Sunny Geranium, Jasmine, White Pepper
Base: Sheer White Amber, Tonka Bean, Haitian Vetiver, Cashmere Woods"
About North Carolina perfume for women
:
"UNC for women is a refreshing, airy and sparkling fragrance with soft base notes evoking the beauty, romance and Southern charm of Carolina's Old Well. The top notes sparkle with lychee champagne accord. Lush jasmine and rose bring warmth and tenderness to the middle notes. The base notes end with sheer vanilla and amber woods. A light, fresh and feminine translation of Carolina Blue for the Carolina woman.
Fragrance Notes:
Top: Lychee Champagne Accord, Fizzy Mandarin, Crisp Green Apple
Middle: Lush Jasmine, Muguet, Rose Bouquet, Baby Violet
Base: Sheer Vanilla, Indonesian Patchouli, Amber Woods, Musk"
Each perfume is priced at $60 and can be purchased on the
Masik site
. $1.99 shipping for a limited time.
Quote via
The Edge