Quatuor Of Fragrances For Your Inner Playboy: Hollywood, Vegas, Miami, Malibu Playboys (2008) {New Perfumes} {Men's Colognes}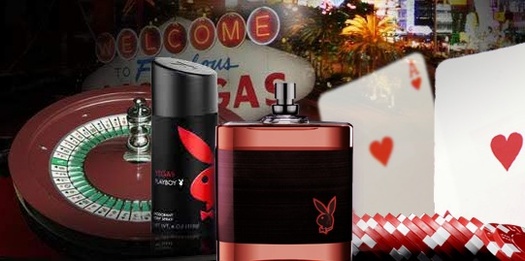 Playboy Bunnies Shannon, Lindsey and Colleen at the fragrances launch party at the Hotel on Rivington in New York City on October 30, 2008. © J. Kohen
Not everyone can be Hugh Hefner and he understands that. But you can get the Word translated into perfume and spread the message around. Sex guru, eye-candy master and lifestyle coach Hefner has launched a series of four perfumes for men destined to awaken your desires and those of your elected partners while teaching a lesson on life. The latter part seems as important as the first and that is to learn to play the Hefner way, meaning living your own personal dreams and, very importantly, leaving as little as possible to chance. This venture comes as Playboy has been experiencing financial difficulties due to a drop of circulation of their magazine, but no one can deny the major impact Playboy has had on pop culture.
Hollywood Playboy, Vegas Playboy, Miami Playboy
and
Malibu Playboy
, developed by Coty Inc., are all meant to capture a different type of man, each associated with the spirit of a particular place known for its high-living style...
Playboy Playmates Holly Madison, Bridget Marquardt, and Kendra Wilkinson © J. Kohen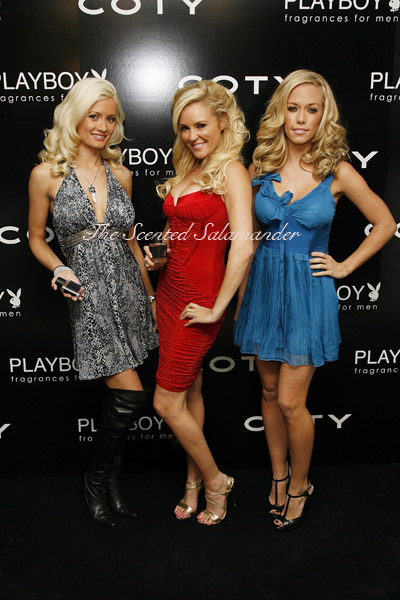 Added 11/7/2008 via WWD: "Two fragrance suppliers, Symrise and Givaudan, participated in the creation of the scents. Hollywood was blended by Symrise perfumer Vincent Kuczinski, and Dirk Braun of Symrise did Miami. Malibu was mixed by Givaudan's John Gamba, and nose Jack Agran gave Vegas a spin."
A
dedicated micro-website
has been set up to help you find which one you are.
Vegas Playboy
is "
a little bolder and more unique with a very striking signature. Good if you are a little more of a gambler, living life slightly on the edge
." It has top notes of apple, basil, tea; heart notes are: lavender, jasmine, geranium; base notes are: musk, vanilla, tonka, georgy wood.
Hollywood Playboy
is "
smooth and sophisticated with a very seductive finish. It's perfect for everyday of if you are seriously on the scene.
" The scent offers top notes of mandarin, thyme, bergamot, elemi; heart notes are: lavender, rosewood, jasmine, cedarwood; base notes are: vetiver, musk, warm amber, vanilla, sandalwood.
Miami Playboy
is "
suave, seductive and sexy, for a real pleasure-seeker. Good if you like your life passionate and hot
."opens on notes of bergamot, leafy green, apple, ozone; heart notes are: rosewood, cyclamen, jasmine; base notes are: musk, amber, cedarwood.
Malibu Playboy
is "
clean, crisp and laid back, like the ocean itself. But it's also very sexy at the end, sure to get some attention
." Top notes are: citrus, apple, mint, leafy green, verbena, neroli; heart notes are: cedar, jasmine, coriander, iris; base notes are: musk, tonka, sandalwood, Cashmere woods.