Best Article on New Chanel No.5 Eau Première {The 5th Sense in the News}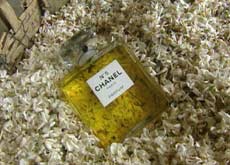 The Irish Independent has the best article I have seen so far written about the new version of Chanel No. 5 - that eternal classic - called Eau Première. One of the reasons, besides the fact that it is a detailed piece, is that we are offered a rare and informative interview with perfumer
Christopher Sheldrake
visiting the Chanel or rather Jospeph Mul's jasmine fields in Grasse for the first time; Mul has been under an exclusive contract with Chanel since 1987. Journalist Sarah Caden has managed to put the perfumer enough at ease so that he confides a bit.
Of interest for those who have followed Sheldrake's work with Serge Lutens is to learn that the perfumer was born in Madras, India and that his father was in the spice trade! Ensues more biographical details....
We also learn that Chanel are working on a "
top-secret iris project
" that will allow the house to, apparently, use more of the ingredient.
I am not so sure that the formula of Chanel No. 5 has remained 100 % unchanged since 1921 as Caden claims, but the Chanel perfumers certainly try to preserve the original perfume as best they can.
We also get the confirmation that there was indeed a problem with the cap of Chanel No. 5 Eau Première which led to the
delay of its launch
, as reported last year.
"As many people do in this business, I fell into it," he laughs, as various bottles of No 5 are laid out before us.

"I was born in India and my father was involved in the spice business in Madras, so I suppose I was always aware of fragrance, but I was a rugger player and hoped to be an architect, and if anyone had said I would end up a perfumer, I wouldn't have known what they were talking about.

"I came to Grasse to improve my French," he explains. "I began teaching English to a group of perfumers and by teaching them the language of their business, I began to learn about it. I went into the business, worked with very experienced perfumers on all types of fragrance and learned a lot, and then spent about three years in Paris with Chanel."

He then left Chanel -- "Why, people might ask," he laughs -- and returned only three years ago to work again with Chanel's master perfumer, Jacques Polge, who has created such further classics as Coco, Chance, Pour Monsieur and Allure Homme. Working with Polge, Sheldrake makes clear, is an enormous privilege in the perfume world.

"If other perfumers knew what it is to work at Chanel," says Sheldrake, "they would most certainly want to work there. But so little is known. There is so little communication between the Chanel lab and the outside world, that it is mysterious, and that's the way to keep it, I say."
Image via tsr.ch

Added:
Just saw another noteworthy article about the same topic in The New Straits Times, with further details: