Tony Sirico Paolo Per Uomo (2008): The Sopranos' Touch {New Perfume} {Men's Cologne} {Perfume Ads}
As a follow-up to our
initial announcement
, here is a sneak peek at the advert for the upcoming new cologne inspired by actor
Tony Sirico
titled
Paolo Per Uomo
(Paul or Paulie for Men). It is inspired by his Soprano character Paulie Walnuts. The tag line is: "
Make it known you mean business.
"...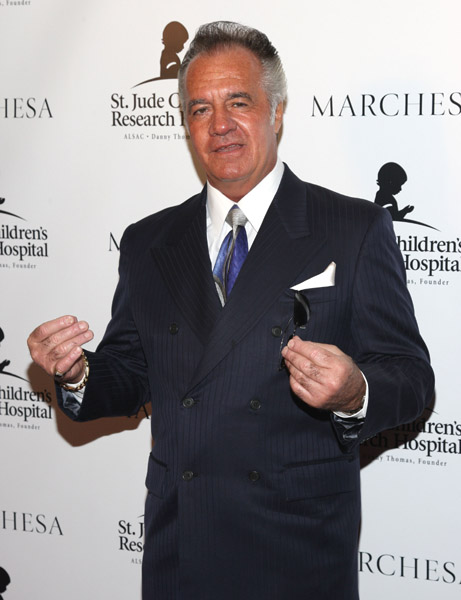 The Italian name and the Sopranos' background reference confers it an all-Italian-American cachet. Wouldn't it have been cool if American Dream Fragrances, the company presided by Donna Sullivan, who developed the perfume, would have found a way of incorporating a recording of Tony Sirico's voice to the packaging, complete with his inimitable accent. It would have been activated by each spritz of the perfume, and voilà for the ambiance!
Ah, well, we will have to be content, hopefully, with a TV commercial.
There is a dedicated micro-website, which features the fragrance launching November 11th:
http://www.paolocologne.com
Via press release
The New York Mag has a pretty hilarious account of their bumping into Tony Sirico at a party last August, and guess what, he was sporting his new cologne,
"It's delicious," Sirico said emphatically. "This is the real Tony. I'm well groomed. I smell well. And that's who I am. I'm a ladies' man. And the ladies love the smell." He continued, "The bottle is blue, and it's got a slash of gray like my hair." While he didn't design the bottle himself, he did approve the smell after an arduous trial-and-error process. "I got a bottle from them about fifteen times. It took about a year. One day they sent something to my home and bada bing! That did it. Magic ... It has a touch of cognac, which I love." So that's how the celebrities make fragrances."