CB I Hate Perfume November, Gingerbread, Walking in the Air (2009): Smells of Fall & Winter {New Perfumes} - Mango, Outside {Hasty-Reviews}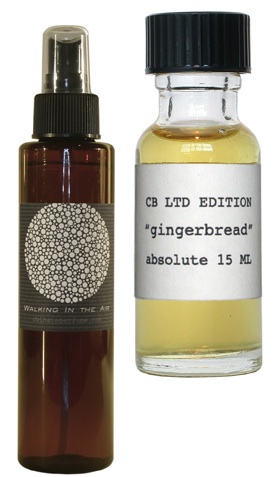 CB I Hate Perfume
, a Brooklyn-based perfume house, has introduced three new scents:
November
,
Gingerbread
, a December-only limited edition that appears annually and
Walking in the Air
, a home fragrance which recreates the pure scent of snow soon to be turned into an absolute by the perfumer who started wearing it himself.
About November, a composition mingling the typical smells of an American autumn, from pumpkin pie to hickory woods to fallen leaves to golden apples, its creator
Christopher Brosius
writes in his blog,
"I think my November perfume is finished. I made a few small adjustments to it this afternoon so will know tomorrow for certain. It wound up being a much more complex perfume than I had intended but that is often the way. The scent is also rather unusual for me - it's sweet. Still, it's a very delicate sweetness that speaks more of autumn leaves, hickory smoke, golden apples and the spices of a pumpkin pie than anything heavy or cloying. I can't really make a cloying perfume...

As i said, November is a very complex scent. It's main note is Pumpkin Pie blended with the scents of the autumn woods, fallen leaves, bonfires and delicious apples - all of these scents are quite complex in themselves. November has a lovely soft lush quality on the skin which to my surprise I greatly enjoy - normally I myself am drawn to greener things. But since I wear every scent I make while I'm working on it, I've been wearing a lot of November lately and am very pleased with its effect."...
The perfume has not been posted on the website yet but should be and is already sold in their gallery.
About
Gingerbread
,
"This warm spicy blend has long been one of my favorite winter scents- so much in fact that I've begun to do a special limited edition of"Gingerbread" for the holidays. CB "Gingerbread" isn't a literal interpretation of exactly how baking gingerbread smells - instead I've blended all the flavors and spices that go into this wonderful dessert.I've combined Chinese Ginger Root, Indian Nutmeg, Cinnamon Bark from Sri Lanka with a subtle warm smoky vanilla-like base (but not too sweet) made with Tahitian Vanilla Absolute. Just a touch on pulse points or behind the ears wraps you in a warm rich cloud. What could be cheerier on a dreary winter day? Or nicer for those who hug you at the holidays...?"


Walking in the Air
was named after the movie by Dianne Jackson based on the story by Raymond Briggs,
The Snowman
,
"One day, in November 2007 when it was unseasonably warm, I found myself longing for the smell of Snow. Not on me but in the air around me in my studio. I wanted to imagine myself working quietly in the middle of a snow covered pine forest - rather like the ending of the first act of Balanchine's Nutcracker...

So I made up a bottle of Snow-scented Home Spray.

Narnia in the Winter, the Waltz of the Snowflakes, or perhaps just the fond memories of Snow Days away from School, the smell of Snow is one of the most beautiful things I can think of..."



This past summer I had the pleasure of wearing one of Brosius's Accords, Mango, and it was a delight. In fact, I had to step back from a display of mangoes at Wholefoods once to try to discern the differences between the real and the recreated scents because they sort of asked the question of which one was which. It was uncanny and made me appreciate the subtlety of the Mango Accord even more. It is a deceptively simple scent which in fact rests on hidden layers of complexity. This to say that he, Brosius, is good at what he does.
And his Outside scent was great. The first time I sprayed it on folded paper towels to discourage mosquitoes, I found a dead one in the next hour lying on the tissue while I noticed other insects had mysteriously retreated from the ceiling. And it smells pleasant to humans.