Elizabeth Arden 8 Hour Cream 1950s Vintage Set (1930/2008): Rediscover Your Classics!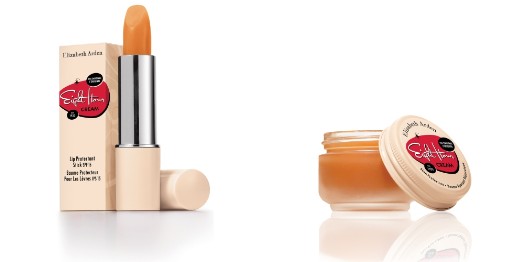 This year's
Elizabeth Arden Eight Hour Cream 1950s Vintage Set
is absolutely darling to behold as vanity items. The set immediately caught my eye with all its apricot-y hues and pretty Atomic-Age feel. For Arden, it is "...
the first in our "Celebration of the Decades" series.
"
The cream was originally created in 1930 and reportedly developed by Elizabeth Arden to nourish the hoofs of her Kentucky horses to prevent them from cracking. In the past it was advertised as a highly medicated cream, capable of repairing blemishes and taking care of rashes, for all the family.
According to the ad copy today retelling a founding tale, the cream earned its name due to its remarkable healing properties reported by a loyal client who had used it to treat her child's skinned knee, "...
and "eight hours later" the skin was all better.
"
And 8 hours later, my lip balm was still on, and 18 hours later my skin was still exceptionally soft, are my own twists...
After testing the
Eight Hour Cream
Lip Protectant Stick
, I had to go back the next day to get it because it is so good. Several hours into wearing it, it was still there resisting drinking and babbling. The scent is herbal-y and pleasant with a citronella facet. The SPF 15 is an added bonus.
The balm makes your lips shine discreetly and hugs them indefinitely, it seems. At least they feel supple for hours on. It works well as a brow-tamer and a gloss for your eyelids as well.
Conclusion: this is one of the best (multi-tasking) lip balms on the market, maybe the best in terms of staying power.
I suspect that for some people they might find the scent of the balm a bit too apothecary-like and when some of it gets into your mouth, it does indeed taste bitter, but otherwise it is an all-around great product. It completely deserves its best-seller status.
The
Eight Hour Skin Cream Protectant
I was a bit more cautious about at first given the fact that it seems to be tailored essentially to the needs of very dry skin, but I decided to give it a go as a night cream, due to the obvious quality of the lip balm.
The Cream Protectant has a very pleasant half gel-like, half cream-like texture and spreads well.
What I found out was that despite its richness this cream does not enlarge or clog your pores but on the contrary seems -surprise! - to shrink them. It makes the face look rested and this to me means quite a bit because I usually fare better without night-creams on.
The level of hydratation is superior. The next day, my skin felt as if it had been polished and softened with a chamois cloth the whole next day, going beyond the 8-hour call of duty.
I tried using it on the lips, but it drips and does not work as well as the lip balm.
To me, the 8-Hour creams and balm qualify almost more as pharmacy-cabinet staples than as beauty products because they are obviously so efficacious. It is a good thing to be reminded with this year's vintage packaging that they can be called beauty products and are worth displaying.
The set is priced at $50 in the US. In Europe each item is priced at 19 € or + 21 €, depending on the stores.
I think that you couldn't possibly go wrong if you offered it for Christmas!
The set is available online
here