The Scented Salamander Perfume Holiday Gift Guide 2008 - Part 1 {Shopping Tips}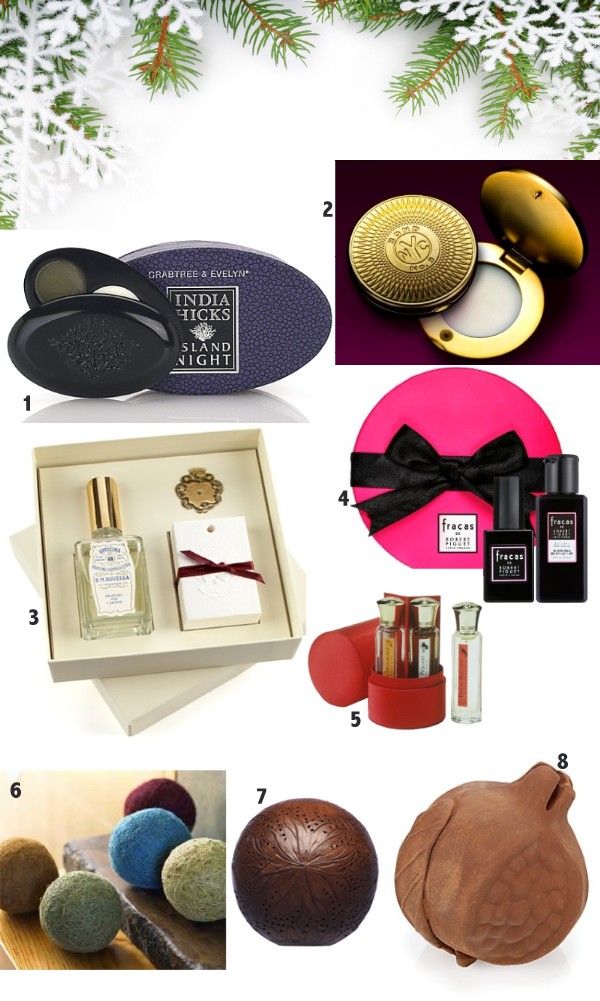 Here are our suggestions for perfume holiday shopping this year, in several installments. You can also check our
Perfume-Shopping-Tip
and
Fragrant-Shopping
Pages for more ideas (the latter for items that go beyond the personal-perfume category, like tea, chocolate etc.) .
The Scented Salamander Holiday Fragrance Gift Guide 2008 - Part 1
1 -
Crabtree & Evelyn
India Hicks Island Night
comes in a lovely solid perfume compact decorated with India Hicks's trademark coral branch. It is called the
Evening Fragrance Night Compact with Enhancer
, the latter consisting of amber. Easy to carry and easy to apply. Price: $50.
"Applied to pulse points, Island Night solid perfume warms on the skin, releasing the intoxicating fragrance of a moonlit tropical garden. To deepen and intensify the fragrance, apply the amber enhancer over the solid perfume."
Available at Crabtree-Evelyn.com
2 -
Bond No. 9 Subway Token Solid-Perfume Compact
is a great New York City souvenir, an original perfume container and comes in 6 scents:
"
We've re-imagined Bond No. 9's nostalgia-laden circular "token" as a solid-perfume compact, containing your choice of six of our most sought-after eaux de parfum. Stashed in its own perfect little white leather zipper case, it's so street-smart it'll glide through any turnstile. The compact's refillable; the zipper case will lead a double life as a carry-case for rings, earrings, and lapel pins (with or without the American flag). Andy Warhol Union Square, Chelsea Flowers, Chinatown, Nuits de Noho, The Scent of Peace or Wall Street: $85
."
Available at bondno9.com...
3 -
Santa Maria Novella Cards for Wool and Drawers
: old-world Florentine charm from one of the most ancient perfumery brands to have survived to this day: $65
Spray features notes of clove, lavender, cedar, rose, and mint to delightfully scent your closets and drawers
20 beautifully embossed acid-free cards
Keeps you woolens moth-free
Scent lasts 1-3 months depending on conditions
When fragrance becomes subdued, simply spray card again
1.65 fl oz (50 ml)
Available at eLuxury.com
4 -
Robert Piguet Fracas
gift set in the
Little Pink Box
to celebrate the 60th anniversary of the legendary tuberose perfume composed by Germaine Cellier. $45, available at Sephora.com
5 -
L'Artisan Parfumeur Passion Set
- Les Epices de la Passion
to spend a Holiday and a fall and winter season full of spice. The set includes Poivre Piquant and Piment Brulant composed by Bertrand Duchaufour and Safran Troublant by Olivia Giacobetti. $85.
"
Three magic love potions contained in a case to add a touch of spice to life !
Three eaux de toilette to stir up the passion within us and set our hearts on fire : an arousing vanilla saffron blend, prickly pepper honey blend and burning red pepper. Three fragrances to use as bewitching charms.
Three 15-ml sprays presented in a red satin cylindrical case, wrapped in a black gift box.
"
Available at artisanparfumeur.us and their other sites and boutiques
6 -
Viva Terra Vetiver Ball Set
to scent and decorate your home in one sweep with these sculptured vetiver roots. $36 for a set of five colored balls at Vivaterra.com. The brand's tag line is "Eco living with style".
7 -
Amber Ball
, the object that gave birth to the term "pomander" or lit. "amber apple", at
L'Artisan Parfumeur
from $90 to $355
"
Hand-carved exclusively for L'Artisan Parfumeur for over 30 years by a family of potters in the South of France, the exquisitely ornamented terracotta balls contain an exclusive solid amber fragrance. Unobtrusive yet intense, the perfume will slowly waft through the air infusing the atmosphere of your home with a warm, piquant aroma. The mesmerizing fragrance will be intensified by heat or humidity in the room. Exceptionally long-lasting, this unique scented art object will adorn your house for many years to come. Presented in a black box lined with paper. Amber refills are available.
"
8 -
Santa Maria Novella Perfumed Terra Cotta Pomegranate
, $60
"
To create this exquisite handmade terra cotta pomegranate, it is formed by hand, put into a kiln, and fired halfway. It is then immersed in a vat of pomegranate oil essence for one week and fired the rest of the way, sealing the fragrance inside.
Truly unique and fragrant "objet d'art"
Scent lasts for 9 to 12 months
Measures 3.5" in diameter"
Available at eLuxury