L'Artisan Parfumeur Mechant Loup (1997): Magical Perfumes vs. Illusory Scents {Perfume Review & Musings}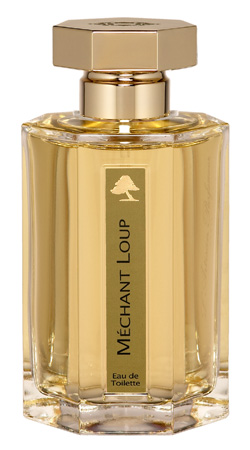 Méchant Loup by L'Artisan Parfumeur - Perfume Review & Musings

Official notes: cedar, licorice, hazelnut, honey

What they say: All dressed with the scents of the forest; a hazelnut core; a very tender woody and gourmand fragrance; for the inner unrepenting seducer found in every man (source: the French L'Artisan Parfumeur website in 2008).


My initial intention for today was to review Poivre Piquant but I became quickly so intrigued by Méchant Loup (Big Bad Wolf), also by perfumer Bertrand Duchaufour, that I decided to substitute a review of the latter for one of the former.

A first element of surprise for me springs from the perception that this time Méchant Loup smells different from that other point in time where I experienced it in the past. Going back to it - precisely because it smelled sub-par the first time - smelling it from a different sample I am wondering now what happened to the original unpleasant astringency and the mini chemical blast I got then. It is now complex, subtle, soft and original. A second element of surprise comes from a familiar sensation lying in the heart of the fragrance which made me wonder for several hours what it could well remind me of? An Eureka moment finally occurred and made me situate the composition within an interesting genealogical map of fragrances.


Magical Perfumes vs. Illusory Scents


A compelling trait of this perfume is how it manages to distill an aura of magical wonderment - which can be explained in part by an unconscious association with the liminal quality of the deep forest (here the smells of the forest) - to contrast this notion with the idea that a perfume and a good perfume at that should succeed in creating an illusion.
Perfumer Jean-Claude Ellena for example promotes the latter idea often declaring himself to be essentially an illusionist. Within that worldview there is no belief nor hesitation as to what the real world is. Art and reality are two separate distinct planes in the mind of the creator. And in fact, it could be argued that these types of perfumes rely heavily on real-world scents as points of departure for the illusory construct. On the other hand, in magical perfumes there are references to real scents but those are less clear-cut and tend to appear elusive, like uncertain apparitions and explanations. Here, with Méchant Loup we enter a different dimension, one that is not wholly set within a rationalist framework but which seems to hint at a world where dark sylvan forces still lurk embodying sexual impulses in a symbolic manner, an idea which is convincingly rendered through perfumery accords. We are asked to believe rather than to be the spectators of an illusion. Perhaps the most seductive characteristic of this fragrance is its fundamental ambiguity...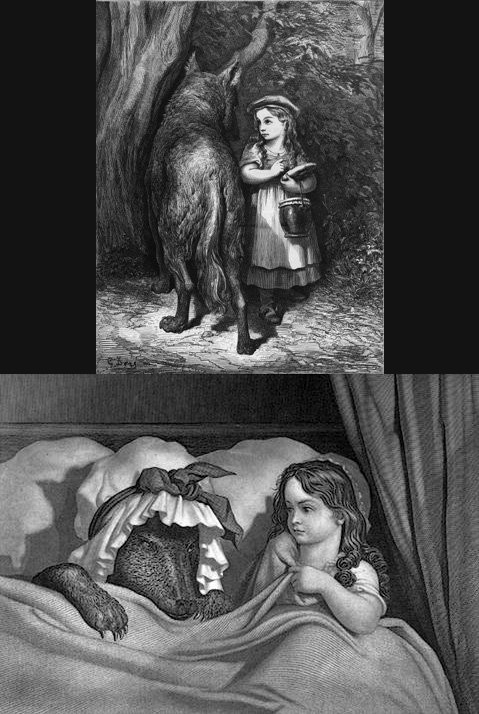 A perfume such as Méchant Loup makes one wonder further about that ability that perfumers possess of using a secret unspoken language possibly leaving a trail of shifting masonic emblems in their fragrances especially so as "noses" are not the dominant entities in the power structure of the perfume industry nowadays, a fact which could only encourage the planting of hidden meaning. In this sense, perfume can be seen to preserve a subtle space of freedom full of secret hand-shake accords appreciated perhaps by the perfumer(s) only, perhaps by the initiated, perhaps by the person experiencing the accidental encounter of two similar compositions one shedding light on the other.

On another level still, perfume can also be seen even more generally to thrive on secrecy. Perfumery is a sort of muted language which has its own mode of expressing and too much explicitness, in my view, makes for a bad perfume. As Bruno Bettelheim said of Le Petit Chaperon Rouge version (Little Red Riding Hood) by Charles Perrault, as opposed to the Brothers Grimm's version in his book La psychannalyse des contes de fées, the first is not such a good fairy tale because it leaves little to the imagination.

In the game of revealed perfume notes versus unspoken ones it is clear to me that Méchant Loup benefits from not saying everything from the outset. Remember, one is supposed to encounter the big bad wolf in the heart of the forest.


Méchant Loup (Big Bad Wolf): Olfactory Report & Review


The personality of the scent could be described as that of an unconventional masculine fragrance although a very simplistic all-man's accord is found weaving itself throughout the foliage of the perfume. The French website of L'Artisan insists more on the tender facet of the scent. It is brought about by the combined softness of honey, myrrh, tonka bean. Its gourmand aspect is also mentioned, with notes of toasted hazelnut, licorice, honey, vanilla and admittedly of spices as well: pepper, star anise. The US website is more understated about these qualities, not surprisingly so, as the American masculine audience seems generally to be thought to be more conservative and less open to an "effeminate" perfume story-telling.

Méchant Loup is both forest-y and nutty. It opens on a boozy spicy accord then segues into a woody, green and resinous atmosphere underlined by licorice. We are in the depth of a somber green forest and the trees are rustling in part thanks to a fresh and airy minty note. In a sense, the fragrance can be read as a dark enchanted fougère. But here comes the "bad" or "méchant" accord in the midst of this magical forest. Very simply, it consists in a sperm accord that weaves its way elegantly and nonchalantly through the composition. It is very close in its effect to the bilge accord found in Sécrétions Magnifiques by Etat Libre d'Orange based on fucus and Azurone (a Givaudan captive molecule created in 2004) however done in a less in-your-face manner. Of course, everyone now understands what the big bad wolf means but thanks to the nature of the language of perfumery which is a priori less explicit than the verbal one, and whose genius is respected here, it manages to retain some ambiguity and mystery, all components of a good perfume, one that you want to reapply again and again to try to crack its aura of magic or just feel a little enchanted one more time.

Does Bertrand Duchaufour have a thing for forests? I am not sure, but I now recall his Bois d'Ombrie, his Fleur de Liane set in the midst of a jungle, now Méchant Loup...

The drydown is deliciously soft with the honey and tonka bean conspiring to create a sweet, subtle glow with discreet smoky aspects. The cedar interestingly smells almost of dry powdered fish, developing an animalic facet. A buttery iris note appears offering a possible explanation as to why the sperm accord feels elegant and not as provocative as in Sécrétions Magnifiques (aside from the lower dosage). I seem to pick on some soft magnolia in the drydown.

Méchant Loup is about understated complexity and seduction. Despite its masculine positioning it is fundamentally ambiguous, revealing masculine and feminine elements, childlike and grown-up ones. One could only hope Duchaufour would offer a Gentil Chaperon Rouge counterpart to Méchant Loup: the color red, the buttery galette, the bottle of wine, the wool, the bed sheets, the smell of the wolf's fur, the scent of fear, the scent of a child, but also that of a woman, all might lead to another compelling symbolic take.

In the end, one is left with the impression that Sécrétions Magnifiques is less revolutionary than it appeared at first to the nose in 2006, unless there was a reworking of Méchant Loup after Etat Libre d'Orange launched their manifesto fragrance. At the same time, Sécrétions helps shed light on Méchant Loup. As it is today, one sees an idea and a daring accord taken out of a previous composition and pushed to the max nine years later. Of the two, Méchant Loup is the most easily wearable by both men and women and is also the most intriguing thanks to its part of mystery. Like Don Juan it wears a mask. Like the sphynx it smiles knowingly and silently.