Les Nez Parfums d'Auteurs Turtle Vetiver Exercise 1 (2008), Manoumalia (2009) {New Perfumes} - 650 Perfume Samples Giveaway
Les Nez Parfums d'Auteurs
after
The Unicorn Spell, Let Me Play The Lion, L'Antimatière
(see
review of the latter
) and a more recent special open-work project called
Turtle Vetiver
by
Isabelle Doyen
(see explanations after the jump) are going to introduce a new perfume in January 2009 baptized
Manoumalia
.
This time, the perfume was created by
Sandrine Videault
"
One of the last students of Edmond Roudnitska, Sandrine Videault is best known for her historical fragrances and olfactive shows
."...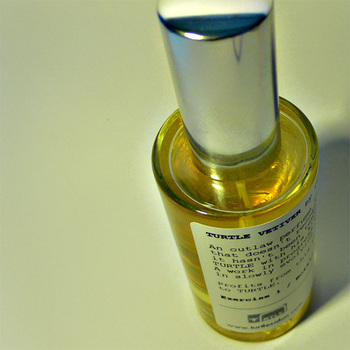 The brand is extending a preview invitation to sample one of the 650 samples that are part of their giveaway. Just send an email with your postal address to sales@lesnez.com
Samples will ship on January 15th 2009.
A perfume that came out earlier this year is
Turtle Vetiver
by
Isabelle Doyen
,
"TURTLE is an open and chaotic network of diverse but interconnecting
ideas, people, projects, events, and venues linked by American
filmmaker, Michael H Shamberg.
Perfumer Isabelle Doyen's contribution is a Vetiver EdT which she
makes in small quantities and constantly changing formulas."

Turtle Vetiver Exercise 1 is the version currently in stock at Les Nez, available for $99.

"an outlaw perfume
that doesn't recognize any rules or regulations
it hasn't been tested on animals
but one Turtle with his kind consent

a perfume in progress
which will be produced in slowly evolving batches


80 Spray Bottles (1.6 fl. OZ / 50 ml) where made of Exercise No. 1

Profits from this product will be given to TURTLE "