Miller Harris Note de Peau (2008) {Hasty-Review}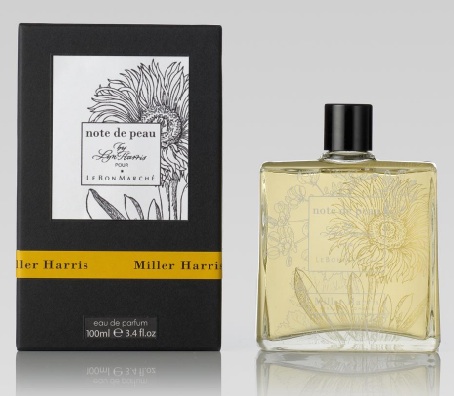 Miller Harris Note de Peau - Hasty-Review
*
Official notes:

Top notes: lemon, bergamot, tangerine; heart notes: lavender,nutmeg, incense, myrrh; base notes: heliotrope, tonka bean, musk, vanilla.

What they say:

Note de Peau is a homage paid to the Bon Marché Rive Gauche; it is inspired by and for Le Bon Marché; Miller Harris becomes the interpreter of French refinement; Miller Harris signs a new vision of the classical oriental (source: LBM website).
Created as an exclusive and pricey limited-edition scent for Le Bon Marché,
Miller Harris Note de Peau
(Skin Note) comes enshrouded with an aura of mystery and anticipation. After all you are expected to scurry to a unique location to acquaint yourself with something that ought, no doubt, to smell flattering both to the Londonian perfume house and the Parisian department store. Showcased in an oasis of bon goût, the perfume's main concern will probably be to make it worth your while to have jetted to Paris or sought it desperately through intermediaries. You suspect this could not be a Mac-Donald scent created in jest and just for the sake of sound bites publicity while incorporating a signature accord of chicken-nuggets (hope everyone is catching the allusion), unless the instigators of the project are feeling suicidal. So the question you ask yourself before inhaling the perfume is: what special formula will have perfumer Lyn Harris concocted for the discerning clientele of the Théâtre de la Beauté, the denizens of the rive gauche who walk past the Guerlain boutique and go to find refinements for their palates at the Grande Epicerie?...
The answer is pretty much devoid of ambiguity. Note de Peau gives the impression of having lacked ideas and to be essentially a formulaic collage within the apparatus of existing codes that are considered bon ton in niche perfumery. If you are ready to ooh and aah while smelling at first a revivalist accord taken from some woody mossy vintage chypre idea with a hint of mustiness-for-the-connoisseur, followed by the always popular barnyard accord of Miller Harris's own L'Air de Rien, which is periodically out of stock on their site (here you can find it in the middle of the development), to finish on a thinning drydown rather than a deepening one, then your thirst will be quenched. If you are looking for something really new, you won't.
It is not because you are made to smell a composition of relatively less commonly seen accords that their sum makes sense.
There is a fine line between an obsessive authorial leitmotiv and a copy-and-paste approach. I think the perfumer crossed the line here.
Contextually, it makes L'Air de Rien feel less unique and lessens the shock value of the realistic animalic smells in it.
The conclusion? Live and learn. Do not expect such an a priori qualitative co-branding to be an artistic enterprise with Le Bon Marché as the patron of the arts and Lyn Harris as the hungry artist. Note de Peau was probably done on a tight time schedule and meant to be sold to people who live on a tight schedule, yet still take the time to perfume themselves while being too busy to seek anything much beyond brand recognition and the pleasure of releasing endorphins by spending 160 € instead of 115 €.
Ah, the small pleasures of life!
Note: my "Hasty-Reviews" are my most synthetic reviews in terms of olfactory description, not necessarily in sheer length and number of words. They are more analytical and less "sensitive". I do not or cannot take the time to day-dream on them or do more in-depth analysis or research but indicate in what directions these scents are going. I identify them, give some background information and try to evaluate the stakes at play as well as give you an idea of what your shopping advantage or disadvantage lies in each case. I may or may not do a more developed review at a later date. With more and more perfumes on the market created more and more in a jiffy, copycats or partial copycats become more numerous too and hasty-reviews (as in a hasty-pudding) are bound to proliferate as well.