Maurer & Wirtz Otto Kern Signature Man & Woman (2008) {New Perfumes}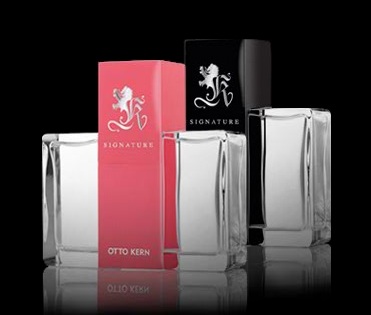 The German house and fragrance-developing company of
Mäurer and Wirtz
(Tabac Original, Tosca, Nonchalance, Pussy Deluxe...) have introduced a new duo of scents for designer
Otto Kern
called
Otto Kern Signature Man and Woman
. The tag line is: "Make your mark - with Otto Kern Signature Man and Woman." Both compositions are presented as status scents and were inspired by the crest of the brand. The types of persons who should wear these scents are described in detail,
"...the allure of Otto Kern Signature Man and Woman fragrances corresponds to the high-flying, modern and self-confident identity of their wearers. Convincingly expressing the elite attitude to life, the new twin fragrances make a clear statement and consistently fulfill the role of an unobtrusive yet exclusive accessory."...

"Your life happens in the here and now: achievement, passion and love are everything to you - intrinsically bound together with an extremely comfortable lifestyle. You enjoy your life to the full. Yet you also hold great store by familiar roots and traditions as well as classic values. You can underscore your stylish philosophy of life with the powerful and distinctive Otto Kern Signature Man & Woman fragrances."

Otto Kern Signature Man
has bergamot, cardamom and mugwort in the top notes, with Lavender, orange blossom and cinnamon in the heart. Base notes are tonka beans, musk and cedar.
Otto Kern Signature Woman
has head notes of blackcurrant, mandarin and pineapple. The heart contains peach, gardenia and tuberose. Base notes are musk and benzoin.
Signature Man is available in eau de toilette and Signature Woman in both eau de toilette and eau de parfum.