Faux Perfume Commercial Ad by Roman Polanski for Greed & Real Art Project by Francesco Vezzoli {Fragrance News} {Cultural Notes}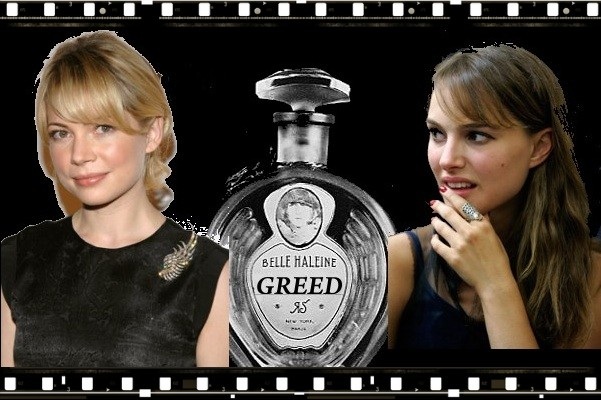 Italian video artist
Francesco Vezzoli
has decided to illustrate the theme of greed in the art world with the support of a faux perfume commercial for
Greed
shot by none other than movie director
Roman Polanski
and featuring actresses
Natalie Portman
and
Michelle Williams
. The idea came to Vezzoli as he noticed that the world of art is more and more about the construction of desire, that is, yes, more and more like a bottle of perfume on which you are made to want to drool and that you covet.
From the perspective of someone more into the world of perfume this realistic take can sound ironic at a time when a good contingent of people are desirous to bring to perfume the recognition that it is an art form first and foremost. What kind of art do you mean? one might ask. The latest news are that art has turned into a market full of commodities!
The faux perfume commercial will debut at the Gagosian Gallery in Rome on February 6th 2009...
The "visual opera" by Vezzoli includes the short which lasts a little more than a minute. It will debut by mimicking a real perfume launch rather than an opening night.
About the film the artist explained,
"Natalie plays the good girl and Michelle plays the greedy one, and they start having a catfight over the perfume. They bite each other, pull each other's hair, throw themselves on the floor, and all of that is filmed by Polanski in his epitomizing style."


The video artist selected Portman and Williams because they are A-list celebrities and have never endorsed a perfume before.


The bottle for Greed, the perfume, is inspired by a "
famous work by Marcel Duchamp
", which must be his Belle Haleine Eau de Voilette, itself using a bottle of Un Air Embaumé by Rigaud (see our photo montage -- no link to the real faux project, if you are still following me).
Vezzoli also said he had always wanted to deconstruct the process of promotion and that he would like his work to be the reflection of the transient media.
The installation will move to the Modern Museum of Stockholm in September 2009.
Via
La 7.it
;
NY Mag
;
Marcel Duchamp