Hermes Hermessence Vanille Galante (2009) {Perfume Review & Musings} - Part 1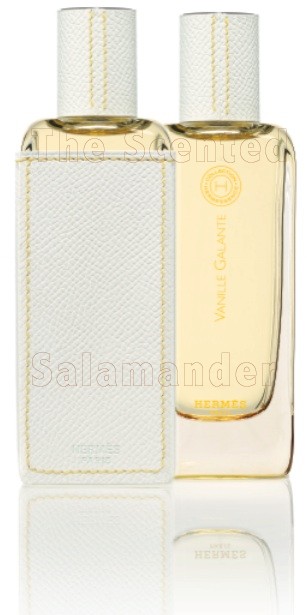 Vanille Galante: Reflections, Musings & Notes on Context
Vanille Galante is the latest addition to the Hermessence collection by the house of Hermès, a more selectively distributed collection of "niche" perfumes composed with the olfactory connoisseur in mind; it is purchasable only in the venues of the Hermès boutiques. Hermessence, a collection of "olfactive poems" was inaugurated in 2004, the very year perfumer-composer Jean-Claude Ellena became the house's exclusive in-house perfumer. The series started with an initial quatuor of scents: Rose Ikebana, Ambre Narguilé, Vétiver Tonka and Poivre Samarcande. All four were united by a common tactile thematic exploring sensations associated with four different textiles.These compositions were followed later on by Osmanthe Yunnan (2005), Paprika Brasil (2006), Un Brin de Réglisse (2007) and now the soon-to-be-introduced in February of 2009, Vanille Galante.
To better understand the spirit that presides over this particular body of works, it might be useful to quote what the house perfumer Jean-Claude Ellena had to say in 2007,
À chaque fois, j'essaie de raconter une histoire courte autour d'une matière que je transforme et d'un voyage. »
Each time, I try to tell a brief story revolving around a raw material that I transform and a journey...
From the first moments that the news about the upcoming Hermessence vanilla composition became known, it was apparent, to me at least, that Vanille Galante represented an interesting and delicate challenge for the perfumer not just in general, routine objective aesthetic terms but in terms of his personal taste as he had previously readily confessed that he found it difficult to work with, paradoxically, this very common perfumery material.
"Il est vrai qu'il y a quelques matières que je n'aime pas, avec lesquelles je ne suis pas à l'aise, vanilline, héliotropine, tout ce qui est sucré en général."

"I have to say that there are a few materials that I do not like, with which I feel ill at ease: vanilline, heliotropine, everything sweet in general."
The very banality of the scent or olfactory impact of vanilla which is found in an ubiquitous fashion in perfumery can be understood to be discouraging for an avant-gardist, modernist perfumer like Ellena, who not surprisingly thinks of it as being a "lazy and repetitive" ingredient (cf. press release).
"A cette senteur que l'on peut qualifier de paresseuse et répétitive, ce qui constitue sa force pour certains, j'ai eu envie de répondre par une invitation à la découverte d'une autre vanille, insolite, complexe et paradoxale, comme une plante fragile après un long hiver, dont on espère qu'elle fleurira à nouveau, plus inattendue encore."
"To this scent that one can characterizes as being lazy and repetitive, which constitutes its very strength for some, I wanted to respond with an invitation to discover a different kind of vanilla, unusual, complex and paradoxical, like a fragile plant after a long winter, about which one hopes it will bloom again, in an even more unpredictable way."
Vanilla's common masking role in functional perfumery and admittedly luxury perfumery too can further accentuate its connotation of being a kind of "bandaid" perfumery ingredient, the last-resort inspiration for the imagination-challenged. Vanilla can indeed and often does come across as an easy option when a scent bellows down to a cloud of vanilla, lacking subtlety as for example in the US formulation of Jean-Paul Gaultier Fleur du Male. In other words, unless you are convinced that vanilla is a sublime ingredient like perfumer Jean-Paul Guerlain thinks, one can quickly be flooded by trivial associations.
Jean-Claude Ellena actually did put out a "sublime vanilla" in 2001 called Lily Prune Sublime Vanilla, a more commercial perfume which nevertheless already showcased lily paired with vanilla, a note which also peaks through in Vanille Galante but more as part of a new trinity: ylang + lily + vanilla.The "galante" of Vanille Galante seems indeed to point to the aphrodisiac character of vanilla especially coupled with ylang.
It is however important to point out that Ellena says that the ingredient he does not like is "Vanillin" rather than vanilla. The nuance is meaningful in this case as Vanille Galante purposefully eschews using Vanillin, the synthetic ingredient, preferring a natural absolute of vanilla.
From another standpoint, although Ellena has composed richer perfumes such as First by Van Cleef & Arpels or even ones that are a tad showy, and one has to say even a bit loud like Rumba by Balenciaga (with Ron Winnegrad), or gustatory and gourmand ones like Déclaration by Cartier and Bois Farine by L'Artisan Parfumeur, he has developed a more personal signature which appears to be the antithesis of some of his commissioned works. The perfumer has been exploring an aerial, watery and transparent palette since the seminal L'Eau Parfumée au Thé Vert by Bulgari while at the same time being acutely aware that he might be faulted for being the natural, unquestioning heir to that part of the 1990s that showed predilection for the offsprings of L'Eau d'Issey Miyake.
For all of those reasons, it was interesting to anticipate a perfume by Jean-Claude Ellena which would no doubt have to conform to the stricter, more aesthetically economical and streamlined inspiration of the Hermessence collection, to its exigency for innovation while focusing on a vanillic accord that is challenging to that perfumer in particular. Vanilla is indeed a priori not very supportive of his core aesthetic beliefs, being opaque, creamy in its most commonly seen form where the perfumer is more attracted to purer harmonies and effects of transparencies (he is an amateur water-colorist). In this regard we are witnessing a psychological reversal of the "easy" character associated with vanilla, which becomes "difficult", a little bit comparable to the case of mythologist and philologist Georges Dumézil who mastered more than a dozen so-called "difficult" languages yet confessed that he could not master English, a language having the reputation of being "easy".
If transparency is normally thought of as an effect, it could be analyzed as really constituting the bones made of glass of a perfume by Jean-Claude Ellena. Where it can come across as the very expression of desincarnation, transparency transforms itself here from being the seeming non-flesh of the perfume to its crystal-clear bones (but without the shine of it) to reprise traditional kinship categories.
Vanille Galante takes some time to appreciate more fully and it evolves, in time, from interesting to finally natural and charming. It is interesting initially because of a dual aspect. The perfume hesitates between watery and creamy facets subverting the idea of vanilla in its most classic form, a fact made even more palpable through the vanilla-ylang association and the initial tropical character of the scent, for one part. It also modernizes our perception of vanilla as the structure of the perfume is like walking in a gallery of paintings while contemplating several states of vanilla, a series of variations on the material, prolonged and luxurious. Vanille Galante also offers the simple pleasure especially appreciated by connoisseurs of food and perfumes alike of experiencing the borderline sensation of unpleasantness that is associated with the idea of complex and interesting putridity (a blast and theme of floral indoles in this case). Also, I can only assume that followers of the more personal work of Jean-Claude Ellena will be pleased to find some of his familiar atmospheres and signature notes (he works with a self-limited palette of 200 perfumery ingredients, with the occasional discovery, as in this case that of "a new absolute of natural vanilla").
Finally, the Hermessence perfumes very much present the characteristics of the art study. In this case, one cannot escape the feeling of a reference to and deconstruction of Guerlain's ylang-vanilla signature accord found prominently in Mahora, Mayotte and Ylang-Vanille, the latter in the Aqua Allegoria line. Jean-Paul Guerlain is known for his personal attachment to both vanilla and ylang-ylang ("the flower of flowers" in Tagalog), having even bought a plantation in Mayotte, a region from which the best ylang originates. He is also the one who likes most to remind us of the Venusian, erotic properties of vanilla as lately in Spiritueuse Double Vanille.
Jean-Claude Ellena seems to have had a Guerlain reference in mind, as if a classic association and a new take on it were his dual aims. Apart from that and obviously, the two notes wed well and in this sense a vanilla-ylang pairing is the least paradoxical part of this enterprise. In fact, pairing vanilla and ylang may be compared to the comfortable certitude one derives from cooking beef with carrots in homely cuisine; they were destined for each other and it is no mere chance that generations of taste aesthets have prolonged the association. But take one step beyond the realm of the familiar and there lies the possibility of renewal: Vanille Galante can be seen as a riff on a classic (Ellena did not make the effort of finding a wildly original vanilla association as he maybe needed to find his vanilla footing first). On the other hand, it is undeniably a personal meditation on vanilla and florals. But if there are several degrees of originality, Vanille Galante appears to be a few degrees away from a classic core rather than a wild jump in the unknown, evolving from being slightly academic in tone to avant-gardist, reflectively so, and finally, charming, joyful and relaxed. The conclusion of the promenade we are invited to take reminds me of one of my own core beliefs regarding perfumery and French perfumery especially: that it is not just an art but an "art de vivre", an art of living, and importantly so.
Monday, Part 2: