Kusmi Tea Detox (2007): Review {Fragrant Gourmet Notes}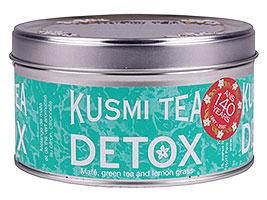 So you have partied, re-partied, re-re-partied during the Holidays, crossed over to the new year 2009 and tomorrow is Epiphany day, yet another opportunity to feast on a traditional dessert, the
galette des rois
, a buttery
mille-feuilles
delight filled with fragrant and tasty almond paste.
What you need now and for the rest of the year is
Kusmi Tea Detox
, a new blend introduced in the summer of 2007 to celebrate the 140th anniversary of tea house
Kusmi Tea
Est. 1867 in St Petersburg, short for the name of the founding
Kousmichoff
family.
As its name Detox makes explicit this tea blend helps drain and purify your organism while - as it turns out - being pleasurable to the nose and tastebuds all at the same time. What I personally appreciate with the Detox tea - a green blend - besides its depurative properties is how smooth a green tea concoction it is. This makes it a great candidate for day-long sipping without feeling dehydrated by a high level of theine/caffeine. In second and equal position as far as I am concerned comes its fragrance...
It releases a lovely citronella scent reminiscent to me of fresh citronella infusions, a popular digestive drink in South East Asia.
Detox incorporates maté from Brazil, green tea from China scented with lemon essence and citronella herbs. When you open the tin can it is like a gentle and invigorating explosion of soft herbaceous and citrusy aromas with some bergamot and burnt caramel nuances. I seem to catch on a faint almondy facet too which might be because I know that it is one of the brand's fetish aromas.
The tea when it is infused takes on a nice green spinach-golden hue which can become inky black if you let it steep for a long while due to the high concentration of iron naturally found in maté, which makes it a great tonic drink, especially to be considered by women.
The taste is smooth and the liquid rolls around in the palate while the bitterness is kept at a minimum. It goes well with brown cane sugar but can also be sipped on its own very pleasurably and easily.
Kusmi Tea Detox boasts a high concentration of antioxydants. The staff at the Grande Epicerie call it their favorite energy and de-stressing drink at the office. It is a great go-to green tea for people looking for health and beauty benefits from their teas.
From the website,
"Time of day: all day long
Origin: Brazil and China
Quantity of tea needed: 3 g
Ideal water temperature: 85-90°C
Recommended brewing time: 3 - 4 min
Caffeine content: *
Anti-oxidant content: ***
Other health benefit: detoxifying
Tasting advice: delicious plain or sweetened. The combination of Maté and green tea virtues - diuretic and stimulating properties, richness in antioxidant - make Kusmi Detox the perfect companion for slimming and detoxifying diets.
Known for its tonic properties, mate does not have the side effects generated by caffeine."
Detox is available from 10€ on their websites (they now have online US and Canadian stores). www.us.kusmitea.com (US online store) and www.kusmitea.ca (Canada).
Via La Grande Epicerie, Kusmi Tea, Webactus.net