Halle Berry Halle (2009): The Bare Essence of a Woman {New Fragrance} {Celebrity Perfume}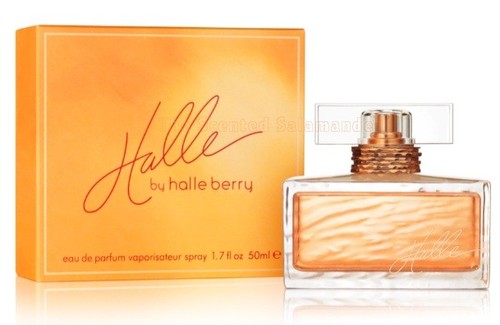 As announced last year
, actress
Halle Berry
has been working with
Coty
on developing her signature fragrance. Now the scent called
Halle by Halle Berry
is set to launch in the spring of 2009.
Berry is no newbie to the world of scents. She readily confesses that she likes to blend her own oils, much like Sarah Jessica Parker, calling it "
a wonderful form of self-expression
." Unlike SJP though, she does not seem to have a favorite super-sexy combination but rather thoroughly enjoys the creative part of it.
"For years I have created my own personal scents by mixing and layering fragrances, trying to come up with something unique and different. It's a wonderful form of self-expression and I am thrilled to be working with Coty on my debut fragrance," ...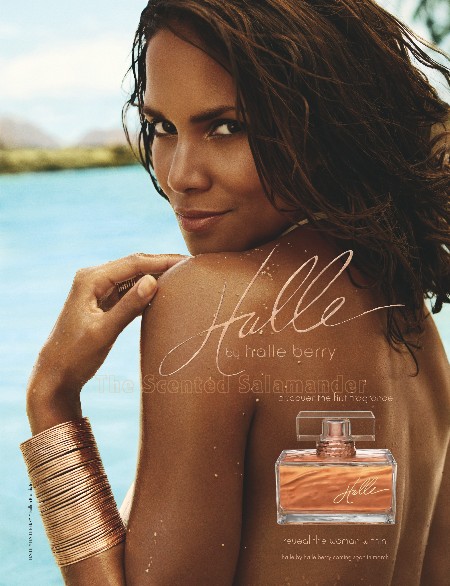 Coty on their end, announce that Halle has a global vocation,
"...this fragrance will resonate amongst all women around the world, inviting them to reveal their inner beauty, sensuality and strength of character."


If you have been following perfume trends, you will be interested to know that as a "woody oriental", Halle continues to develop the theme of
feminine woods that was presented last year as slightly edgy for the mainstream market
.
The perfume incorporates notes of luminous mimosa and fig, two notes beloved by the Oscar-winning actress.
Top notes are: bergamot, fig leaves and pear blossom; heart notes are: freesia petals, hibiscus flower and a new-sounding accord or molecule, "Ultra Mimosa"; base notes are: sandalwood, driftwood, cashmere musk, olibanum absolute, and sensual amber.
The composition is said to play on contrasts of transparency and texture, freshness and sensuality.
The advertising was shot on a beach in Oahu, Hawaii by photographer and director
Cliff Watts
.
The price range is very reasonable. Halle will not drain your wallet, especially in US $:
Eau de Parfum 0.5oz/15ml $ 17.00(US) / EUR 16.00 *
Eau de Parfum 1oz/30ml $ 28.00(US) / EUR 24.00 *
Eau de Parfum 1.7oz/50ml $ 35.00(US) / EUR 34.00 *
Body Lotion 6.7oz/200ml $ 12.50(US) / EUR 35.00 *
Shower Gel 6.7oz/200ml EUR 12.50 *
Deodorant Natural Spray 2.5oz/75ml EUR 13.50 *
(Via Coty press release)