Hermes Eau de Pamplemousse Rose, Eau de Gentiane Blanche (2009) & Eau d'Orange Verte (1979): Chic Cologne Trio {New Perfumes}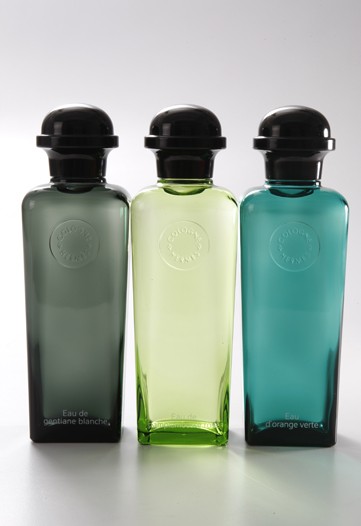 Update: You can read our
reviews of the three colognes
Hermès
will launch a set of three unisex eaux de cologne in May 2009 called
Eau de Pamplemousse Rose
(Pink Grapefruit Water),
Eau de Gentiane Blanche
(White Gentian Water) and
Eau d'Orange Verte
(Green Orange Water) prolonging the lively cologne revivalist trend spotted last year around the time of the launch of
Dior Escale à Portofino
. What is new is the upscale branding of these sophisticated eaux de Cologne on the one hand and on the other hand, sometimes, a desire to freshen up the genre like
François Demachy
did for Portofino.
With Hermès's new trio of colognes called
Les Colognes Hermès
, in-house perfumer
Jean-Claude Ellena
has also decided to pick up the guantlet and offer new interpretations of the classic Kölnish Wasser.
The initial Hermès trio collection also builds upon the heritage of Eau d'Orange Verte which was created in 1979 by perfumer
Françoise Caron
and can be considered a classic. She recently created a trio of refined
eaux de cologne for Astier de Villatte
and one could see a parallel between that collection and the new Hermès one....
Robert Chavez of Hermès USA said that the project upped the standing of Hermès "
as a perfumer rather than just a launcher of new fragrances.
" A phenomenon which is much aided by a seeming digging-in of the heels on the part of in-house perfumer Jean-Claude Ellena who manages to impose a perfumer's sense of obsessive leitmotiv over an overly crass mechanical and commercial one (see
our review of Kelly Calèche Eau de Parfum
, the latest twist on KC).
Eau de Pamplemousse Rose
features notes of grapefruit, orange, rhubofix and vetiver and is said to bear a classic stamp especially with regard to its citrus components. Rhubofix is an odorant made by Firmenich described as smelling very fresh, with woody, spicy, floral and fruity overtones. A rose note is said to bring a twist to the composition.
Eau de Gentiane Blanche
is the one seen to be more innovative as it pretends to belong to the genre without using citruses. Notes include gentian, white musk, iris and incense. Catherine Fulconis chairman of Hermès Parfums says that Ellena in this case "..
.really revisited freshness
."
Eau d'Orange Verte
has notes of orange, mandarin and lemon, mint leaves, blackcurrant buds, oakmoss and patchouli.
"Each scent comes as a splash with a pump that's available for a spray iteration. Eau de Pamplemousse Rose and Eau de Gentiane Blanche will be sold in 100- and 200-ml. bottles, which are to retail for 87 euros, or $110.87 at current exchange, and 114 euros, or $145.29, respectively. Eau d'Orange Verte will come in 50-, 100-, 200- and 400-ml. versions for 45 euros, or $57.33; 62 euros, or $78.99; 82 euros, or $104.47, and 124 euros, or $158, respectively. Prices are for France. There is also an ancillary line."
Via
WWD