Avril Lavigne Perfume's Name Unveiled {Celebrity Fragrance}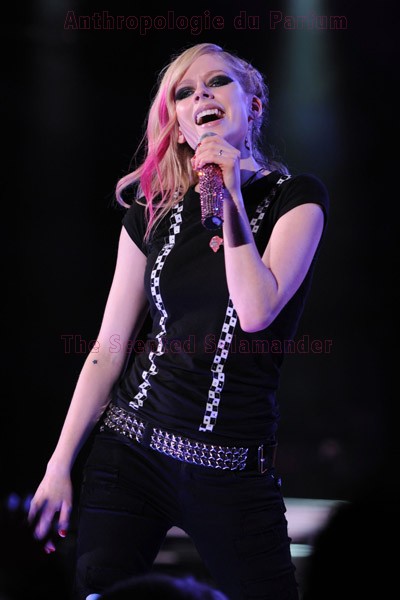 As previously announced
last year, Canadian singer, actress ans stylist
Avril Lavigne
will release her debut signature fragrance this summer hopping onto the major new wave of celebrity fragrances which was encouraged by Jennifer Lopez from October 2003 with Glow by J.Lo...
She is not part of the
Coty
stable though but rather belongs to that of
Procter and Gamble
.
The young show biz star has announced in a blog entry on March 7th 2009 on her
official site
that the new perfume will be unveiled this week in London, UK. Offering an insider's glimpse into the new venture she has already revealed the name of the fragrance which is called
Black Star
.
"Hi everyone!
I'm traveling to London next week where I'm about to announce my latest project .......... my very first fragrance! :)

I'm really excited and can't wait to share it with you. It will be available across Europe this summer, and soon in the US and Canada.

It has been a pretty cool experience. It's so me in a bottle....hahaha! I love the packaging. I wanted to let you guys know the name first ... so.....(drum roll please).......hahah..... The name is "Black Star"!

And I can't wait to share it with you! More to come very soon...
xo Avril"





En français sur Anthropologie du Parfum