Estee Lauder Pleasures Splash Collection (2009) {New Fragrances}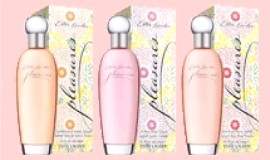 Estée Lauder
is going to launch a collection of three cooling splashes this spring based on Pleasures, from April 2009 (both in the US and Europe). The trio is described as,
"Three all-over body splashes inspired by the liveliest notes within the classic Estée Lauder fragrance, Pleasures, created in 1995."...

The fragrances are called
Baie Rose Peony Splash
(Pink Peppercorn Peony Splash),
Jasmine Violet Splash
and
Sandalwood Amber Splash
. They roughly reflect a classic three-tiered olfactory pyramid from light to deeper notes.
Like the
Marc Jacobs splashes
, the Estée Lauder Splashes are housed in larger-than-average bottles of 8.1 oz (hey, you're supposed to be liberal with the stuff). Each is priced at $52.
Also upcoming is the alternative
trio of colognes from Hermès
.
4711 has also a new eau-de-Cologne collection I will post about.
Lots of choices -- hope it will be nice and warm this summer!
Via Cosmetic World