Feud over the Invention of the Eau de Cologne Won by Feminis in the Latest Round {The 5th Sense in the News}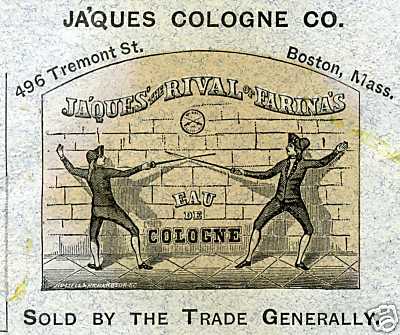 An interesting early advertising American label for an Eau de Cologne from Boston dating from the 1870s depicting a duel between Ja'ques and Farina, both makers of the wonderful Eau de Cologne

As 2009 marks the 300th anniversary of the Eau de Cologne (is it a simple coincidence?), a village feud spanning the centuries and resembling in flavor that of the Capulets and Montagues gets settled for a little while in favor of the Feminises over the Farinas, both candidates to the title of inventor of the Eau de Cologne...
Originally named Aqua Mirabilis by Paolo Feminis it is better known as Farina's Eau de Cologne created officially in 1709. The name "Eau de Cologne" is reportedly recorded from 1742 only.
"Researcher Silvia Ceccomori told ANSA she uncovered leaves of paper once attached to eau de cologne bottles in which Farina's grandson Giovanni (1718-1787) attests that the perfume ''was invented by Paolo Feminis, Italian and distiller of Cologne''. Santa Maria Maggiore's Deputy Mayor, Claudio Cottini, said he was satisfied that the dispute could finally be put to rest and that he hoped Farina's German descendants would accept the new evidence."

Read more...

Photo credit: Rhealee8 on eBay

Do you have a favorite Eau de Cologne?