Stills from Lettre de Paris by Roger Leenhardt (1945): Les parfums il les faut dans la rue et non dans un jardin longuement désirer... {Scented Images & Perfume Adverts}
Here are 5 stills from the documentary by
Roger Leenhardt
entitled
Lettre de Paris
(Letter from Paris) a love letter to Paris shot during the summer of 1945 together with cinematographer Noël Ramettre, a year after the liberation of the French capital city. In this 22 mn documentary Leenhardt pretends he is sending news of Paris abroad and to the provinces to those who cannot come to see by themselves and who must be missing the city they have not been able to visit during the war. The director's love for Paris is palpable. The film is like a series of picturesque and sometimes funny postcards celebrating the renewal of life...
Leenhardt must have been sensitive to smells as one of the first remarks in the movie is about the smells of hackneys (fiacres) crossing Paris wafting of the old-fashioned scents of leather and varnish, horsehair and dung, belonging to another era. The next olfactory stop is at the Guerlain boutique rue de La Paix where American GIs wait in line for more than an hour to buy a bottle of "Jardin d'Amour" and "Heure Bleue". The filmmaker comments "
Les parfums il les faut dans la rue, et non dans un jardin, longuement désirer et souvent plus d'une heure!
" (Perfumes, one must desire them for a long time, and not in a garden, but on the street often for more than an hour!)
The rare sight of a woman can be seen who has come to shop for a Guerlain perfume herself. The line mostly consists in men as befitted the mores of the time when only a minority of women were emancipated enough to go pick their own perfumes.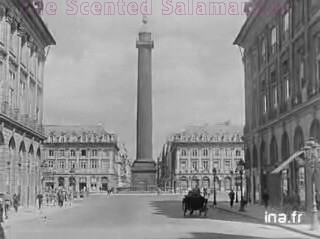 One can appreciate the classicism of this last shot about eternal Paris which concludes the passage about Guerlain. We are in 1945 but thanks to the faint silhouetting and the hackney (horse power was more readily available then than oil and cars) we seem to see a 19th century engraving come alive, a time-capsule moment already experienced by Leenhardt with the aromas of hackneys. In 1945, and despite the destructions caused by WWII, a line of continuity with the past came alive and was maybe sought out as a reassuring sign.
Source: ina.fr