L'Artisan Parfumeur Parfum de Feuilles {Home Fragrance Review} {Fresh Notebook - Green Freshness}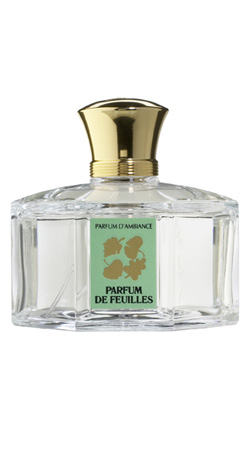 Continuing my exploration of green freshness in contrast to the more widespread canvases of aquatic and airy freshness which as I pointed out earlier are more attention-drawing nowadays, I wanted to call attention to a home fragrance by
L'Artisan Parfumeur
called
Parfum de Feuilles
(The Scent of Leaves). It is inspired by "the aromas of a Tuscan garden" in the springtime and features notes of tomato leaves, basil and mint. L'Artisan calls it "elegantly rustic".
As its name indicates and as the scent delivers in full it is all about that feeling of bruised grass blades and raw sap oozing on your fingers and staining your skin after you have played with leaves to release their aromas...
The sensation is not rare, in fact it is very commonplace, but it is not easy to find a good, none too simplistic and balanced idea of the real thing bottled to bring home. The green scent, if you find one, may also be mixed with other facets. In this case, it is very focused on that sensation of fresh clover leaves as picked from a meadow, a once popular category of soliflore perfumes.
For the delight of friends of frankly green scents, Parfum de Feuilles aims thus to recreate the invigorating scent of a chlorophylle-filled day in the spring and summer. It feels as peaceful as being under the shade of a tree with a rich dome of fragrant and rustling green leaves. As its subtitle promises, this "parfum d'ambiance" is indeed able to plant a 3-D atmosphere of greenery in the middle of a house.
One of the means by which this sense of peace is conveyed is paradoxically through, apparently, the use of the a priori hotly connoted incense as Parfum de Feuilles seems to betray a cold frankincense note on the edge of tomato leaves to create the illusion of an explosion of calm green sappiness. The greenness is spiked with some pepperiness and aniseed. It is unambiguously fresh and green. The freshness closer up smells akin to that of the interior of a cold fridge thanks to the mint. The lingering aroma of Parfum de Feuilles, which is lasting, is musky-white but never heavy.
The lady at whose house I had encountered it once had had the good idea of transferring the scent into an ancient pink cranberry perfume bottle with an atomizer bulb and a long silky fringe found at the flea market. It looked and felt fab in her Paris apartment. Today, the transparent glass bottle you see in the picture is obsolete and has been replaced by an opaque black glass one with the same shape. It is so much more convenient for displaying and preserving the scent that you should not deprive yourselves of that pleasure, if you like green perfumes, as in very green.
A 4.22 oz bottle is priced at $70.