Roger et Gallet Bois d'Orange (2009) {New Perfume} {Blotter Notes}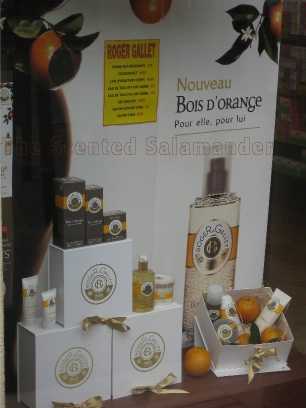 Roger et Gallet
, best known for being one of the owners of an ancient original recipe of the Eau de Cologne together with Mäurer & Wirtz 4711, have launched a new perfume called
Bois d'Orange
(Woodsy Orange), an Eau Fraîche. As its name suggests it is derived from the idea of the traditional eau de Cologne choke-full of citrusy notes with a focus here on a fruity hesperidic note of orange and woodsy and musky notes for added body...
Blotter Notes
Bois d'Orange goes in the direction of the popular L'Occitane orange-based perfumes which debuted with
Ruban d'Orange
(2006) and continued with
Feu d'Orange
. It can also be compared to Guerlain
Mandarine Basilic
(2007) and calls to mind Orange Tonic by Azzaro.
Bois d'Orange reveals a measure of freshness but is perhaps a bit too simple with its dominant and rather uncharacteristic notes of orange, woods, and white musks (this both on a paper blotter and on skin). The orange accord is not as satisfyingly sunny, juicy and realistic as in Ruban d'Orange. The scent lacks the slightly discrepant herbal twist of Orange Tonic. Finally, where freshness is concerned it cannot compete with Roger et Gallet's own Eau de Cologne Extra Vieille Jean-Marie Farina.
Indeed, as a skin thirst-quencher and where forced to choose from just the offerings at Roger et Gallet, one would be well advised to reach for the classic eau de Cologne instead which retains a nice "finesse" and complexity compared to what comes across as a slightly debased eau de Cologne. Bois d'Orange seems to represent the brand's effort (owned by YSL Beauté) at communicating about and broadening the appeal of its simple-perfumery image more than anything else and appearing younger and hipper thanks to the unisex tagline "
Pour elle, pour lui
" (For her, for him). Unfortunately the juice assumes that the masses dislike personality, a theory proven wrong, in many cases, by the cults of personalities that pepper the course of history. The masses in fact love to give up their individual personalities to identify with a larger-than-life personality. This is not cult-material.