Spring Notes: Lily of the Valley - Muguet... & Christian Dior {Scented Thoughts} {Fresh Notebook - Green Floral Freshness}
The smell of
muguet
(Convallaria majalis), or lily of the valley in English which has also retained the French word especially in the field of perfumery, is instantly delightful, delicate and fresh, with a capital letter. The scent of a sprig of muguet evokes without much effort of the imagination the woodland and the cool of the forest. If you concentrate and smell and close your eyes, the scent conjures up damp grass and sitting-sessions ending with your clothes wet with the morning dew and patterned with water-rings.
When you smell further, you realize that the freshness is extraordinary compared to the sizes of the shapely little bells. If you approach your nose close to the flowers themselves, it suddenly feels as if you had entered halfway inside a refrigerator and next, that your nostrils and the tip of your nose just turned into an ice cube. The delicate mini bell-hats have huge air-conditioning power but it is not accompanied by any perceptible sound of a motor humming. How can something so tiny smell so fresh?...
The scent of muguet/lily of the valley is unique rather than it makes you think of other flowers, like rose can smell of violet or an orchid like rose. Muguet just smells of muguet in all of its rather linear and recognizable character. Unlike a number of other flowers that present at some point a shade in the spectrum of their olfactory personalities which can make them be confused for a moment with a sister flower (if you were closing your eyes) say, like lily next to ylang-ylang, or peony next to rose - the richer ylang and rose contain lily and peony respectively but the reverse is not true and this is why lily can be used as a natural mutually enhancing pairing with ylang like in
Vanille Galante
or peony with rose - muguet is much more linear and, again, offers a unique balance.
It is a floral scent with discreet clean, musky, green, airy, fruity and citrusy facets. Its indolic notes, i.e., its sexual signals is one of the most refined you can encounter: this flower seduces while remaining dressed, never suggesting any obvious carnality and naked body and barely any flashes of the skin. This is maybe why it is often represented as the flower of courtship and gallantry. Its scent of attraction is very lightly sweet and heady and always mingled with clear-headed citruses. A slight sexy raspy tone can be heard, but more like a cool whisper or the murmur of a brook than a sultry voice. The headiness of muguet however is real but minutely dosed: it only suggests fatal seduction like a claw that remains half-sheathed.
Smelling a potted lily of the valley is a slightly different experience and one can then catch that more markedly musky facet that gave its name to the plant.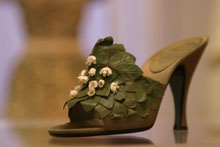 I like to think that it is maybe due to this civilized and fully-covered olfactive profile that Christian Dior elected lily of the valley as his favorite flower and his mascot. For a couturier, it is especially fitting to imagine women as flowers and as seductresses wearing the insigna of clad refinement and only half-bared flesh. A painter like Gauguin might have preferred a more heavily sensual and carnal flower to symbolize his world, but a couturier who is a couturier to the tip of his fingers would appreciate that suggestion of restrained, covered-up sensuality and freshly ironed linen that lily of the valley offers.
Contemplating further the graceful little bells, I notice how well they must have symbolized the New Look silhouette for Dior: a wasp waist, ample, corolla-like hips in a flow of white material, the natural curly limit of a hem evoking for Dior his obsession with length: shorter or longer, to pull up a bit or not? The tepals of muguet retract overtime; some droop more, some are perkier. They seem to hesitate and follow their own whim.
His fashion inspired by
les petites filles modèles de la Comtesse de Ségur
is well symbolized by the false propriety of lily of the valley.
The bell-shaped flowers have moreover a perfectly tailored look about them and even seem to be made of molded plastic in their infallible perfection -or to remain in the Dior universe - appear to be completely starched or worn as if tightly pulled on rigid tulle petticoats. Lily of the valleys look like jewels, embroideries, reclining feminine heads, drooping shoulders or cinched skirts. They are stylish.
Up next a review of
Diorissimo
, the reformulated version, a lily of the valley perfume for the records of history.
Dior photo credits: rfi.fr; vintageconnection.net