Creed Acqua Fiorentina (2009): A Promise of Harmony {New Perfume}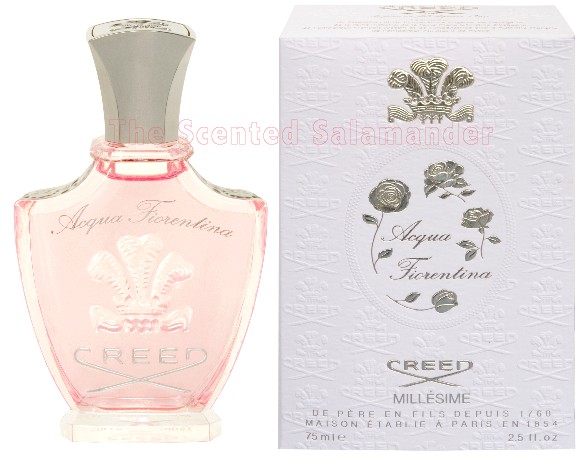 This spring
Creed
is launching a new perfume in its
Millésime
collection called
Acqua Fiorentina
. The scent is said to be built around the idea of " a promise of harmony."
The perfume is co-signed by father and son
parfumeurs
Olivier
and
Erwin Creed.
It was inspired by the evocation of a fruit orchard at dawn in July in Tuscany; the orchard sits atop a hill leaning against the walls of a thousand year old village.
"In this second, the air seems bathed by a light from the Renaissance, iridescent, condusive to harmony. The world is smiling upon you as if suffused with a newly found beauty....

"You are as if asleep, but already your linen bedsheets feel caressing. Fine rays of sunshine tenderly brush your eyelids and awaken your senses. Your arm slips out of the bed to reach down to a blue glass basket on the floor. Your fingers feel around, hesitate and pick up a plum."
"Et ce soleil est délivré" said the poet Eluard

"And now this sun here is set free"

Acqua Fiorentina is described as a fruity perfume. The fragrance opens on fruity notes of plum and greengage plum seguing into floral and citrusy notes of rose, Indian carnation, bergamot, and lemon before developing base notes of Virginian cedar and Indian sandalwood.

(Via French press release; my own translation)