Chantal Thomass Osez-Moi! (2009): Scent of a Boudoir {New Perfume} {Fragrance Advert}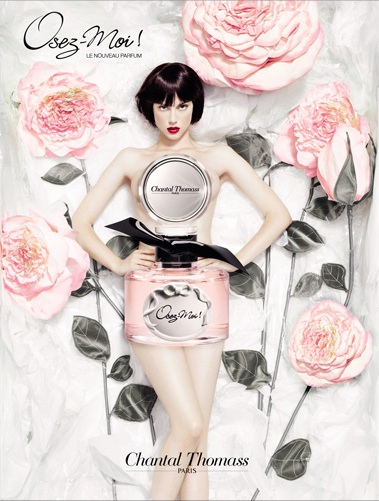 Lingerie mistress
Chantal Thomass
has introduced a new women's perfume cheekily called
Osez-Moi!
(something like "dare try me!"). The designer says that it is "
a very feminine fragrance in line with my lingerie: precious details and noble materials with a touch of the unexpected
." Thomass was inspired by the atmosphere of a boudoir and admittedly by what is to me in fact a fragrance genre,
the
boudoir perfume
(my characterization). Usually this involves a powdery note and the fragrance is made to feel intimate and sensual evoking the ritual of coquettry and beauty of a woman.
The copy also adds that Osez-Moi is a composition that "...
plays with contrasts: vintage and modern; romantic and avant-garde; technical and poetic
."...
On French Sephora the text specifies that the perfume rests on an accord that can be translated as the soft smell of a body mingled with the elegance and delicacy of floral notes.
Top notes: frangipani, musky rose
Heart notes: vanilla, peony
Base notes: musks, vetiver
"The musky notes vibrate, lose control and finally diffuse the woodsy scent of vetiver like a cloud of powder applied to the bust."
The Eau de Parfum retails for 44,40€ and 64,10€.