E. Coudray Nohiba (2009): An Invitation to a Voyage to the Orient {New Perfume}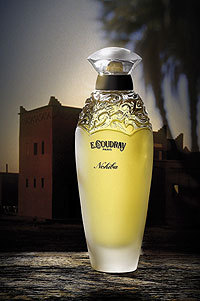 E. Coudray
, one of the oldest perfumeries in Paris, established ca. 1822, is releasing a new perfume called
Nohiba
inspired by the Orient and the 1001 Nights.
The fragrance is said to open on notes of lemon, bergamot, coriander and to develop a heart of rose-ylang, jasmine, and carnation. The base rests on notes of patchouli, sandalwood, cedar and white musk.
Nohiba, nom évocateur pour un voyage aux parfums lointains et aux couleurs chaudes et douces des terres mystérieuses de l'Orient, ou seul le plaisir des sens existe.

"Nohiba, an evocative name to travel to the distant perfumes and warm and soft colors of the mysterious lands of the Orient, where only the pleasure of the senses exists."


Via
Cosmoty.de
; Coudray