Gocce di Byron Saladero, Tramonti, Volastra, Guvano, Punta Mesco (2009) {New Fragrances - New Line}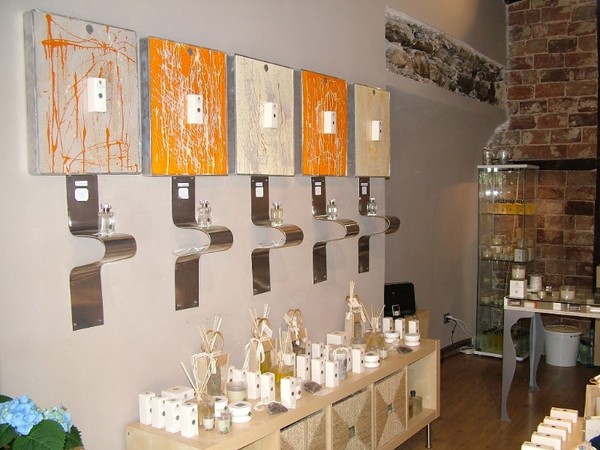 There is a new confidential niche perfume line that has appeared in Italy called
Gocce di Byron
(Drops of Byron). The collection is generally inspired by the concept of an olfactory voyage taking precedence over the more habitual first visual sensations on a trip and the idea that perfumes can help us find our own territory and sense of place.
More particularly, Gocce di Byron seeks to embark you on a local olfactory voyage thanks to an itinerary delineated by verses of the poet Byron and the five abstract painterly squares that accompany the 5 perfumes, making the set up resemble an installation....
The line was inspired by Cinque Terre, a UNESCO Wolrd Heritage site and a region once frequented by Byron and Shelley.
Saladero
is inspired by the sea and features notes of cyclamen, melon, and tobacco.
Tramonti
is discribed as a citrusy composition.
Volastra
is the most feminine of the series and based on floral notes.
Guvano
is a fig perfume.
Punta Mesco
features oakmoss and black pepper.
The brand offers the possibility to engrave the bottles with the verses of your choice from Byron and later your own too.
The perfumes can be found at
Portovenere in via Cappellini e a Vernazza in via Roma,
per informazioni: 0187-790665 oppure: info@goccedibyron.it
An e-commerce site is currently under construction at
goccedibyron.it
.
Via
Citta della Spezia