Interview with Jean-Paul Guerlain & Thierry Wasser in Wallpaper {Fragrant Reading}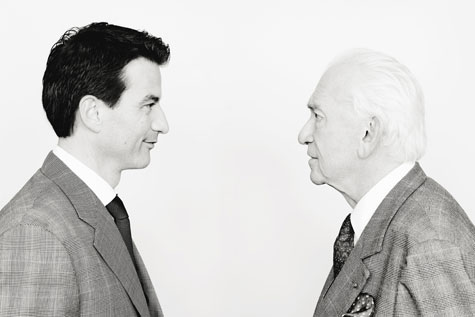 Wallpaper
has quite the comprehensive interview with perfumer
Jean-Paul Guerlain
and his successor
Thierry Wasser
. It is almost touching to see Wasser's sense of intelligent humility, faced with a historic treasury of knowledge and monument such as Jean-Paul Guerlain. There are many insights about the collaboration between the two men, and what one can interpret not just only as the continuation of the name of Guerlain but as the preservation of a national and international patrimony in perfumery. J-P Guerlain is dispensing "some" of his experience and knowledge, as he says so himself, but at the same time, it is not as straightforward as that and Wasser has to figure out a number of things by himself.
An interesting possibility is evoked with the meeting of Thierry Wasser with Jean-Paul Guerlain's eldest grandson; apparently, it might not be impossible to see the heritage of the house go back to the guardianship of a Guerlain after it would have skipped a generation...
There are so many interesting and telling details that I do not know which ones to use as teasers. For example, Chantilly was the first exercise in recreation given by Jacques Guerlain to his grandson; Queen Elizabeth II has her own Guerlain perfume called Parfum de la Reine, as does Elizabeth Sirot head of Guerlain PR; it's called Lavallière; J-P Guerlain was asked to stay to work at Firmenich but did not want to pain his grandfather even for a few years for fear the latter might pass away sooner; Thierry Wasser is learning the new skill for him of sourcing raw materials. In fact, Thierry Wasser now thinks there is a reason why originally perfumers were mostly men,
"TW: It [sourcing raw materials] is all fairly new because at Firmenich we had people to look after that side and I used what is the standard offering of raw materials. While at Guerlain...well M Guerlain is the Indiana Jones of fragrance. He has travelled the world to find raw materials. It is a special skill. Once somebody asked me why perfumery was always such a masculine job - well first of all it isn't anymore because now the ratio of men to women in the industry is 50/50 - but it was masculine because you have to put on wellington boots and go out in the field. And that is a big part of what I am learning with M. Guerlain. He has spent his life travelling."


Read more...