Victoria's Secret Sexy Little Things Noir Launch with Adriana Lima (2009) {New Fragrance} {Celebrity Perfume}
Victoria's Secret
have launched yet another feminine boudoir perfume meant to highlight their lingerie collection called
Sexy Little Things Noir
. It features - readers of Proust will appreciate - a floral note of Cattelaya orchid, which was turned into a haunting trope of feminine beauty and even into a newly coined verb denoting sexual intercourse in
Remembrance of Things Past
.
"At once elegant and playfully provocative, it's an enchanting blend of sparkling nectarine, sultry amber and exotic cattelaya orchid."....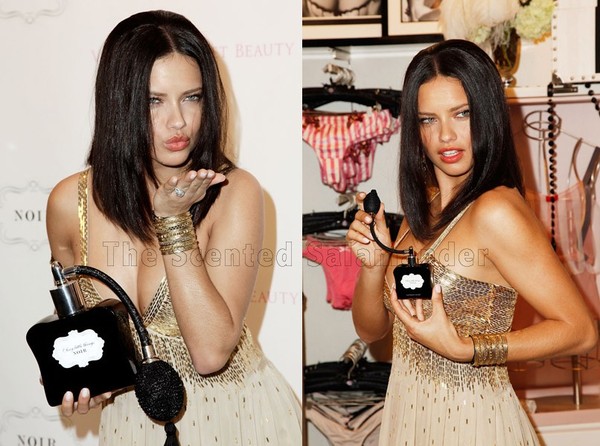 As it is, the scent is described as a fruity-floral opening on notes of nectarine, juicy apple, sparkling citrus, pineapple, guanabana, mouthwatering pear, red fruit, bergamot. The heart rests on notes of: cattelaya orchid, muguet, cyclamen, jasmine petals, plum, vanilla, dewberry, cassis. Base notes are golden amber, velvet musk, sultry woods, tonka bean.
The spokesperson for the perfume is Brazilian model
Adriana Lima
which was present at the launch acting as a central advertising focus for the new perfume. Dressed in a cocktail dress as a modern-day Cleopatra ready to seduce her Anthony she sat and posed with the perfume bottle amidst an array of Victoria's Secret lingerie.
"On Saturday, May 9th, Victoria's Secret Beauty's Adriana Lima celebrated the launch of the new fragrance and body care collection Noir, dressed as a modern day Cleopatra. Lounging in a decadent boudoir setting on a grande chaise lounge, Adriana hosted an afternoon of glamour and mystery at the Lexington Avenue Victoria's Secret store.
The collection includes Eau De Parfum, Scented Body Lotion, Scented Bath and Shower Cream and Scented Body Powder. ($18-$39)"


Via press release & Victoria's Secret