By Kilian Arabian Nights Pure Oud & Back to Black Aphrodisiac (2009) {New Fragrances - New Line}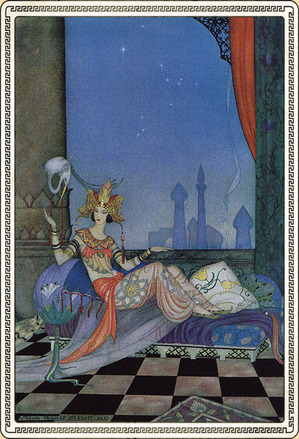 By Kilian
have followed up on a previous announcement to say that they will launch two new perfumes this year.
As previously reported about
, there is a tobacco fragrance composed by perfumer Calice Becker of Givaudan due out in September 2009 whose name has now been revealed to
Cosmetic News
in an interview given by Kilian Hennessy.
The new scent is titled
Back to Black Aphrodisiac
. It expands the Black Masterpiece collection...
Picture:
Scheherazade Went on with Her Story. Arabian Nights. Penn Publishing Company, 1928.
by
Virginia Frances Sterrett
The second fragrance is scheduled to launch soon in June 2009 and is part of a new line called
Arabian Nights
which appears to be the Orientalist counterpart to the Black Masterpiece, itself inspired by numerous references to 19th century French literature.
The first perfume in the new series is called
Pure Oud
and is said to be based on "
four Arabian ingredients
".
There have been other oud compositions recently; please see
Comptoir Sud Pacifique collection of Four Ouds
and
Le Labo Oud 27
.
Oud is in principle a very pricey ingredient but methods have been developed to harvest it from the appropriate trees and environment by infecting the wood voluntarily. Oud or aloeswood or agarwood or agar is a pungent, dark resinous matter exuded by the wood of Aquilaria trees from South East Asia in response to a fungus attack, that of
Phaeoacremonium parasitica
. The artificially created oud is nevertheless considered to be of lesser quality than the authentic accidental formation.