Lush Vanillary (2009): King Kong Passion {Perfume Review} {New Fragrance}
A King Kong poster from 1933, via All Posters
Vanillary
by
Lush
was originally inspired by "
the extraordinary desserts at Heston Blumental's amazing restaurant, The Fat Duck at Bray
", a multi award-winning temple of cutting-edge molecular cuisine. It was an unnamed, mysterious pudding in particular whose lushness was captured. The perfume is composed of vanilla absolute, jasmine absolute and tonka absolute and was created by in-house perfumer
Simon Constantine
. Its first incarnation was a bath product called
Vanilla Fountain Ballistic
. t is now available as a spray perfume as well as a solid one. This is a review of the liquid Vanillary.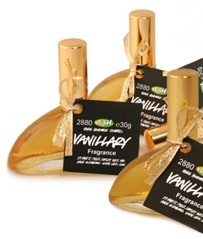 The fragrance can be seen as a dark floral vanilla scent with a salty edge.
As cooks know it well, salt enhances sweetness making the sensation more irresistible. The blend opens on a salt-brushed, indolic and brown-toned accord of vanilla with a sweet wood-polish nuance found in lily. Soon an undercurrent of lush, rich, drunk-like, resinous and fruity jasmine with a dash of green surfaces. There are hints of almondy heliotropine.

What I appreciate most perhaps about the meeting of flower and vanilla bean in this scent is how the junction is made through a fresh green sappy bridge, as if made of oozing vine...

The vanilla and jasmine pairing is treated with the aim visibly to intoxicate the senses with its atmosphere of island excess and feverish drumming. Think the haunting sound of the tam-tams on Skull Island where King-Kong awaits its next victim, who has been bathed in an exotic-floral-and-vanilla-oil-maceration to please the muffle of the beast at the sacrificial moment. (Please note that the Lush Gorilla brand was created in 2010, a year after this review, and so this review's impressions are original, pre-dating that branding).
The scent of vanilla cake batter floats above this more sensual and erotic impression of a flower bed of intoxicating tropical blooms exhaling at night. The jasmine indoles which feel salty like those of lily have a suggestion of disguised animality without feeling like a clear waft emanating from a pit at the zoo. The animalic notes have been subjugated and folded into the floral ones.

Deeply set inside the heart of the composition, there is a little quote of the former bestseller Monyette Paris with its green champaca accord but folded into lush layers of sweet and salty ambery vanilla. The vanilla has been caramelized with a hint of transparency and water in it instead of having been rendered into a creamy, white, opaque and fluffy vanilla. It is faintly smoky.

The long drydown perhaps loses some of this night-of-excess atmosphere by being more straightforwardly gourmand and smoky-vanilla-ice-cream-like, with a note of sandalwood. It also starts smelling like the signature medley of scents encountered in a Lush store, sometimes even before you enter it, wafting from mounds of psychedelic soap cakes and bath bombs. Is it voluntarily so, as a way to prolong the customer's affective link with the Lush universe? As is well-known by now, stores use scent-marketing, but it is the first time that I seem to experience it incorporated in the very bottom notes of a perfume by a brand. Lush do specify in the copy that this vanilla note is found in a great many number of their products.

Vanillary is worth trying if you like intensity and floral vanillas. Due to its concentrated impression resting in part on the rich effect of a textural coconut note, the perfume seems to be carried by oil rather than alcohol. If you wish to recreate within a few moments the sensation of having steeped for hours in a bath made with mysterious oils upon which magic formulas were chanted just before the wedding ceremony, then give it a go. There is like a hint of head-throbbing ritualism about it. It is evocatively enthralling.

Vanillary is currently an UK online exclusive but can be purchased internationally.
Ingredients
DRF Alcohol, Perfume, Vanilla Absolute (Vanilla planifolia), Jasmine Absolute (Jasminum grandiflorum), Tonka Absolute (Dipteryx odorata), Hydroxycitronellal, *Coumarin, *Benzyl Cinnamate
* Occurs naturally in Essential Oils