Lush's New Baby: Gorilla Perfume Tuca Tuca (2010) {New Perfume - New Brand}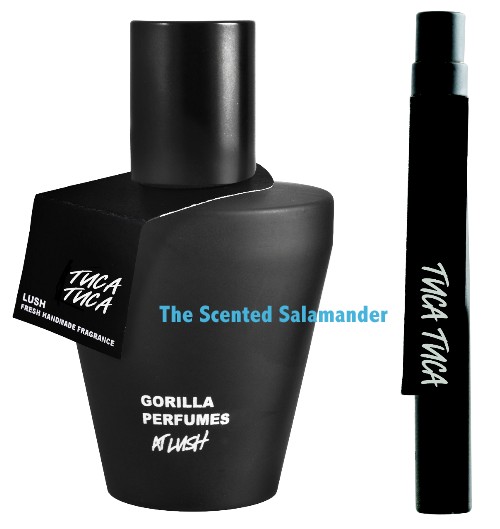 British toiletry and perfume makers
Lush
have created a new brand-within-the-brand called
Gorilla Perfume
. It is arising from the ashes of the regretfully departed
B Never Too Busy to be Beautiful
, but tear up not as some of their former B offerings will be back. This summer, Gorilla Perfume will present a new collection of fine fragrances as well. The first one to be unveiled to the public in a preview format is
Tuca Tuca
, a fragrance inspired by the Italian song and dance "Tuca Tuca" sung and performed by
Raffaella Carra
(you can check the video after the jump.)
I should mention that
my review of one of their current bestsellers, Vanillary
, which I then entitled
King Kong Passion
was written more than a year before the birth of "Gorilla Perfume." I suppose I was on to something when I smelled in it an "...
atmosphere of island excess and feverish drumming. Think about the haunting sound of the tam-tams on Skull Island where King-Kong awaits its next victim who has been bathed in an exotic-floral-and-vanilla-oil-maceration to please the muffle of the beast at the sacrificial moment
"....
The new brand has a good idea of who the Tuca Tuca girl is.
"
It's that fun and flirtatious girl inside us all - she's mischievous with a naughty sense of humour and an infectious giggle. She likes to dance like no-one's watching and run through park sprinklers with abandonment, just because she can. She's whimsical, carefree and when the sun shines just right she can go from being sweet to sensual with the bat of an eyelash.
Tuca Tuca
is the epitome of how fast your heart races when your eyes meet the boy you've got a crush on!
"
The fragrance's 3-tiered structure is seen as emblematizing the three periods of the day: morning, noon and evening. In the morning:
a blast of fresh summer air, violet; at midday:
warm vanilla and ylang ylang; sundown:
"
a slightly naughty violet leaf and vetivert bottom."
Lush are also releasing their own musical version of Tuca Tuca by "
Mira Manga, of festival favourites 'The Duloks', and music by English folk band 'The Nightjar Fledglings, including musicians Simon Emmerson, Richard Evans and Liza Carthy." (Via press release)

Prices: £23 for a 30 ml bottle and £10 for a 10 ml bottle.