Parfums 137 Hollywood Stromboli 1950 (2009): Betty, a Moll & a Dame-Perfumer All The Way From Hollywood to Sicily {New Perfume}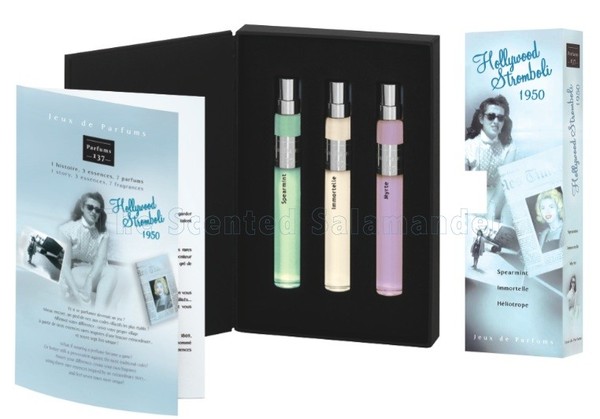 Parfums 137
, co-owned by
Alexandre Bigle
and
Richard Ekert
have released their latest opus in their library of coffrets of perfumes-to-be-layered (or not) inspired by true yet little known chapters of the history of perfumery. Following
Nara 1869
, the new perfume set called
Hollywood Stromboli 1950
follows the traces of Betty in Tinsel Town ca. 1950. She is a woman with a strong temperament who is this unusual combination of moll and dame-perfumer and who happens, not fortuitously, to be a descendant of perfumer Akimoff featured in the previous coffret.
We don't know if Betty studied perfumery formally but it appears that she inherited some of the skills of her ancestor and started creating perfumes for the Hollywood crowd. They were a hit, so much so that mobster Jack D decides not only to date her but to exploit her perfumery skills. She is held against her will but is rescued by another thug, Mike R, with whom she escapes to Stromboli and where she continues to make perfumes. When Jack D is arrested later on, she will go back to the US to testify against him before returning to Stromboli and the arms of Mike R...
This is the synopsis of the story that inspired perfumer
Corinne Cachen
to come up with three main blends called
Spearmint
,
Immortelle
and
Myrte
. Despite their simple names, the building-block perfumes are not one-note compositions, but blends.
Parfums 137, as already stated for Nara 1869, follows the following principles: "1 is for a story, 3 for the already mixed essences, and 7 for playfulness." You are invited to layer the scents and each possible combination is described in advance to you in a booklet that is part of the coffret. For example, Spearmint + Immortelle is characterized as a "
bold creation, a tribute to freedom
"; Immortelle + Myrte is "
provocative and refined
" and Spearmint + Immortelle + Myrte is "
for a fragrance of timeless elegance
." They can also be worn on their own.
A coffret is priced at 60 € and is available at Le Bon Marché or on the
brand's site
. The Parfums 137 website also proposes samples set of three scents priced at 5 €.