Chloe Eau de Parfum Intense (2009): Garden of Roses {New Perfume - New Flanker}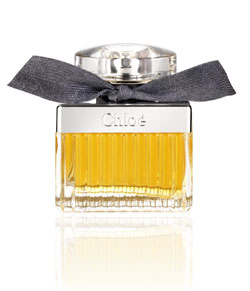 Chloé will launch a third flanker in its collection which started with Chloé Eau de Parfum (see
perfume review
) followed by an extract titled Lisy then an Eau de Toilette. This time it will be called
Chloé Eau de Parfum Intense
and will continue to weave the rose motif,
"Together, each Chloé incarnation forms a rose garden of fragrances, according to Coty, which offers consumers a variety of complementary olfactory facets to suit different moods and seasons. "...

This version of Chloé is said to be "
enchanting
" and "
imperial
" and was composed with an eye to the winter season. The bottle is now decorated with a gray ribbon to suggest the more muted colors of the cold season as well as the warmth of a scarf.
Notes include rose, pink pepper, sandalwood and Tonka bean.
Chloé EDP Intense is priced at 77 € and 99 € for 50 ml and 75 ml respectively. The launch is planned for October 2009.
Via
The Moodie Report