24 The Fragrance by ScentStory (2009) {New Perfume} {Celebrity Scent} {Men's Cologne}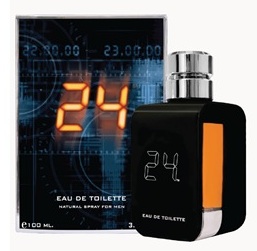 ScentStory FZE
fragrance company in Dubai came up with the idea of creating a perfume inspired by the character of
Jack Bauer
played by
Kiefer Sutherland
in the popular television series
24
where each episode is consecrated to narrating one hour in a 24-hour action-packed day. They approached and secured a deal with
Twentieth Century Fox Licensing and Merchandising
...
The cologne is called
24 The Fragrance
and the packaging evokes the atmosphere of the series complete with its digital logo,
"The man behind this exceptional perfume is enigmatic with incredible self-assurance. He conveys an air of extreme distinction. He is urban, cosmopolitan, but above all a hero,"


The Eau de Toilette has "top notes of lavender, mandarin orange and bergamot, completed by a dash flash of lemon. Heart notes include nutmeg, cinnamon, pink pepper, mint, caraway and anise, settling into a base of amber, musk, oak moss, vanilla and wood."
One source says it is meant to be exclusively distributed in Dubai then further sold in the wider region of the Middle East although brand founder Gabriel Chami also expressed more global ambitions at one point,
"Together with Daniel Clarke, responsible for fragrance design and marketing development, ScentStory has delivered a product that we hope will delight the millions of worldwide fans of "24," the TV series, and Jack Bauer."

If you are interested in purchasing it from abroad ask a friend or scan one famous auction site.
A 100 ml bottle is priced at $68.
Via
The Moodie Report
;
License Mag