Rochas Eau Sensuelle (2009): Simplified Rochas Signature {Perfume Review}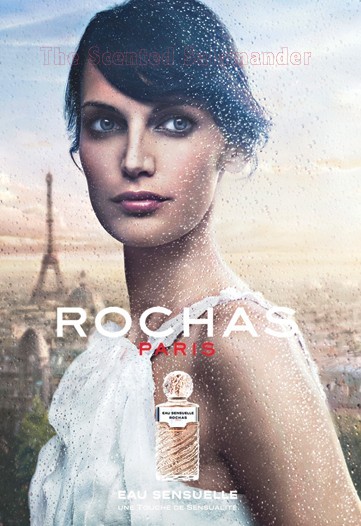 Eau Sensuelle
is the latest flanker to Eau de Rochas and is the first perfume created by perfumer Jean-Michel Duriez for the house while he continues to be the nose for Patou. Both brands are owned by Procter and Gamble. Eau Sensuelle wishes to be a return to the French roots of the house and a tribute paid to Hélène Rochas.
I find first impressions of a fragrance helpful because this is often the time when the olfactory illusion is at its strongest or perhaps better said refer to a moment when we translate it most in visual terms. Smelling further, you start analyzing more and perceiving the scent more in broken-down sections of olfactory perception, which can be either technical or abstract. Sometimes when a perfume is good the images recur...
I first smelled the latest Eau Sensuelle by Rochas in April and cannot remember exactly if it made me imagine a field full of flower pickers in the south of France in the very beginning, like an instantaneous representation or later in the development of the perfume. Now this image eludes me but since I noted down an impression I will reproduce it.
"It [Eau Sensuelle] evokes not the smell of sweat per se but that of a heady floral perfume pushed to its limits by the perspiration on a woman's skin in the summer. The advertising aptly describes that sensation of bare shoulders [in its imagery]."
Nose Jean-Michel Duriez did make a reference to the South of France,
"I have noticed that in every Rochas fragrance -- like Madame Rochas, Femme and Eau de Rochas -- there is a key mysterious ingredient," said Duriez, adding he honed in on orange blossom as Eau Sensuelle's linchpin note, as it recalls for him fond childhood memories of vacationing in the South of France (WWD 3/27/09).

The opening is fruity with all the fruits described (blood orange, bergamot and mango) appearing fleetingly before blending into a more general and abstract impression of ripened fruits warmed up by the sun. The scent does not smell this evocative but plays on that tonality. There is immediately perceptible an undercurrent of white musks with a laundromat connotation including a nuance of cheap raspy aggressivity. Many people love the smell of detergent and so perfumers will not necessarily try to avoid it but at the same time, it is a scent bound to translate as being on the cheap side or pedestrian to another portion of the population. To this reviewer it also feels more and more like product placement from the big fragrance companies as the
white-musk
cocktail has become quite ubiquitous, and what is more striking, at all levels of perfumery.
What Eau Sensuelle succeeds in doing is evoke a solar warmth, femininity and sensuality albeit not expressed in a complex mode. This is mostly what perfumer Jean-Michel Duriez set out to do as he explained "
For me, it's the occasion to push the sensuality of Eau de Rochas,
"
The decision was also taken apparently to make the end stages of the perfume more satisfying than the beginning due to budgetary constraints no doubt. One can choose to awe and impress and then let you down in the drydown or start more modestly and offer a fuller, rounder experience in the drydown. Option B was selected, which is psychologically wise and pays implicit homage to a core traditional idea of French perfumery which holds that the personality of a perfume is to be found in the drydown and sillage rather than in a fantastic opening followed by dumbness. Perfumers want you to get married to your perfume if possible. If you think the personality and marital metaphors are exaggerated, think again. Chanel No. 5's sillage and overall personality has been thought to be the kind one marries, for generations. In fact, it is probably due to her ability to be all at once a flirt, a mistress, and a spouse with the right balance of serious and unserious qualities that it/she owes her enduring attraction. Indeed, this is the paradox of perfumery and the contradictory language spoken by perfumes: seduction, flirting, the advocacy of plurality and a casual attitude professed towards lovers/perfumes thrown like kleenexes to the winds while secretly hoping for a good and long marriage, lasting why not for centuries.
Nothing spectacular happens, no such erotic and lasting sparks ignite -- this is no Madame Rochas, another (under-appreciated) perfume created for Hélène Rochas in 1960 -- but Eau Sensuelle can smell very good if you do not pay too much attention to the details. It feels like a distant echo of the more characteristic and richer addictive sensual impression found in Narciso Rodriguez for Her Eau de Toilette with its reliance on the popular appeal of a soft and sweet Egyptian musk. There is something of that conception of a juicy fruity, ambery, musky sensuality with a further added nuance of dry fruits, citruses and minus the same level of means. The fruity lightly spicy aspect can also be read as demonstrating brand coherence with the fruity-twist-on-a-chypre that the classic Femme by Rochas is.
Despite there have been a loose genealogical link established by the perfumer himself with Eau de Rochas originally created by Nicolas Mamounas in 1970 (under the name Eau de Roche at first) and which Duriez considers "
a total masterpiece
", Eau Sensuelle is absolutely not in the same league. Eau de Rochas is one of the most distinctive and original perfumes one can encounter, a landmark perfume, Eau Sensuelle is perfume as fashion accessory or makeup with the honest intention of celebrating femininity, on a restricted budget. It would have been more interesting to see Jean-Michel Duriez start off his tenure at Rochas with an ambitious and artistic project, but maybe they decided to take it slowly or lacked time and means.
Notes: blood orange, bergamot, mango; orange blossom, pink peppercorn, Sambac jasmine; Iris, dried fruits, white musk notes.
Photo credit:
laurange juice