White Musks Part II: Top White Musk Trails To Try Out {Perfume Short (Reviews)} {Perfume List}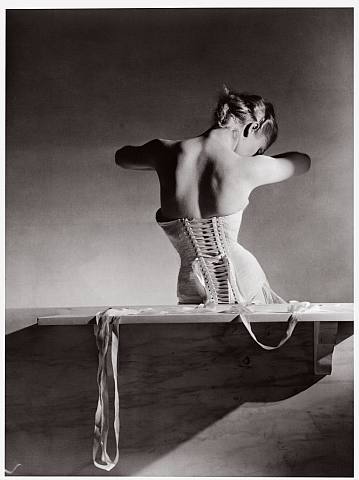 Mainbocher Corset, Horst P. Horst, 1939

Following my last article on the unadvertised, nay, covert trendiness of white musks in Paris, in complete contradiction of course with broadcast Gallic preferences for foul odors, here is a list of top white-musk trails to try out. By white-musk perfumes I refer and pay attention here to perfumes that are the animalistic equivalents of soliflores - I once used the term solabestia to point to those compositions that single-mindedly decide to achieve the smell (or reek, some would admittedly prefer to say) of civet or musk or castoreum or ambergris. Now, I am also starting to like the sound and the look of solibête. And by this therefore I do not mean the numerous fragrances - too numerous to count - that end with a white-musk sweep of the tail in the base notes.

The more I think about it, the more I want to know who came up with that purely abstract antinomic idea of musk as and how come we do not have white civet and white castoreum bottled yet. In spite of the fundamental weirdness of the concept playing on symbolic inversion like black soap and black gloss or even black face-cream (cf. the new Le Soin Noir by Givenchy), not just people, but crowds love it.

The particular selection I propose is based on a mix of historic, qualitative and trendy criteria: 1) they are included because they are are those fragrances that have been on the perfume scene long enough to suggest that, maybe, these specific cleaned-up musks are popular and are here to stay; 2) they are defining or paradigm-shifting, have enough personality to be considered the best in their categories and you simply must try them out to make up your mind about what suits you or does not; 3) finally, we bring in two newcomers because one always needs to keep updated and unearth new scents.


TOP 7 WHITE MUSK PERFUMES TO TRY OUT: WHAT WHITE MUSKS PARISIANS MIGHT BE WEARING TODAY by Chantal-Hélène Wagner


THE BODY SHOP WHITE MUSK (1981)


The classic of classics as far as simple, unadulterated white musk fragrances go. It is probably the one that is the most easily accessible and affordable in Paris. In the US, it is one of the brands in this category that is the most imprinted upon people's retinas. If you are thinking: but hang on, what about Jovan White Musk sold at Walmart for a few miserly bucks? This one appeared a good 10 years later, in 1991 ( in case you don't know how to count). Jovan is more simplistic than TBS White Musk, nice, but somehow flatter and more one-dimensional. I did mention the fact that I would look at "simple" white musk scents, but there is a form of simplicity that relies on hidden ornamentation, as TBS White Musk shows...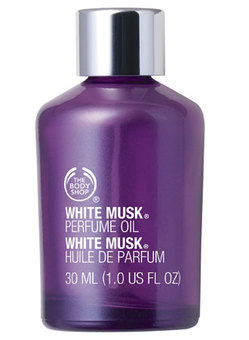 The Body Shop, in order to fête the more than a quarter century of its white musk's popularity and longevity, is now offering the perfume in a comprehensive range of ancillary products and even variations of the original. There is now a
White Musk for Men's version
and the latest poetic license taken is called
White Musk Intrigue
, a more emphatically gourmand chocolatey (resting on more patchouli, heliotrope and vanilla) rendition of the original which already betrayed a disguised accord of chocolate bonbons filled with Maraschino cherry liqueur. Intrigue is already available in the US and will come to France later this fall.
The "classic" perfume oil concentration remains the deepest and longer-lasting one and is interesting for its drydown that smells unexpectedly and very pleasantly like
vintage Miss Dior
. Some perfumes do that: they sign off with a souvenir postcard sent from the past. The white musk accord itself is sweet, a bit indecent, and woody.
"Top notes: velvety musk, floral lily and sensual ylang ylang with hints of fresh galbanum and basil. Middle notes: velvety musk, oriental jasmine, floral lily and rose. Base notes: velvety musk, oriental jasmine, floral lily and iris, rose, sweet vanilla, fresh amber, patchouli, oakmoss and vetiver with hints of fruity peach."
Available at
The Body Shop
for $24 in the US or 22 Euros in Europe at less of a bargain price.
COMPTOIR SUD PACIFIQUE CRISTAL DE MUSC (1986)
Cristal de Musc (Musk Crystal) is an underrated, relatively little known white-musk perfume despite its date of birth. The composition is exceptionally cool and crisp with a very attractive, little-matched crystalline quality about it. It evokes marmorean snow Queens gliding on ice floes through chilly Polar expanses but also powdered milk with an overtone of cute baby-burp: the smell of decomposition kept at its most low-key and family-friendly with all the ensuing irresistible nostalgia for the love of your mama. Don't worry, it is not that obvious. Very clean and sexy.
People looking for a replacement for Tova (
check out the string of complaints about the new formulation)
should definitely seek it out.
Notes: orange blossom, yellow hibiscus, white musk, powdered musk
$42.99 at discount store 99 Perfume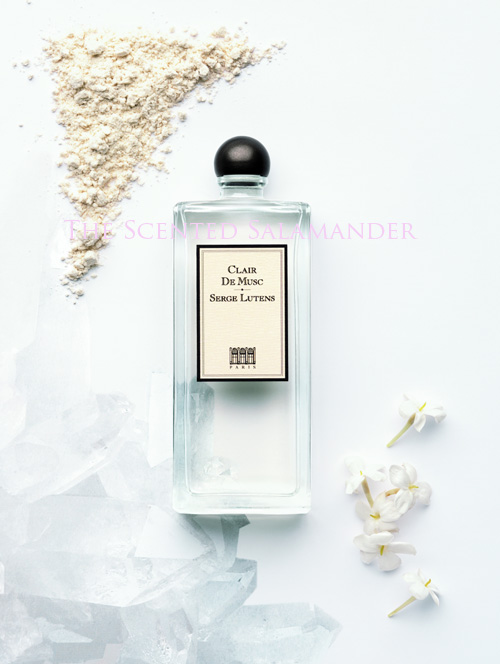 SERGE LUTENS CLAIR DE MUSC (2003)
I already did a brief review of this perfume in the
Musk Hall of Fame
:
Clair de Musc by
Serge Lutens
invokes through its name the clarity of the moonlight but as revealed by the luminous facet of a desincarnated musk. At first, a white musk that seems overly classic and devoid of originality for a Serge Lutens, but which is in fact a subtle transparent crystalline musk that marries beautifully with whispery-soft floral notes (neroli, Tuscan iris, jasmine, rose....) The musk is vegetable and borrows its pseudo animalic facet from ambrette seeds.
This is a refined rose and musk fragrance as soft as the tactile sensation of a rose petal on the skin.
Yet Lutens being Lutens, transparency here still manages to make room for subtly opulent notes of rose and spicy resins.
Imagine a transparent muslin material enveloping a sterling silver pomander containing a refined powdered and resinous Oriental pot-pourri.
Notes: Musk, bergamot, neroli petals, white jasmine petals, carnation, Tuscan iris powder
Available for $120 at Neiman Marcus, Beauty Habit, Luckyscent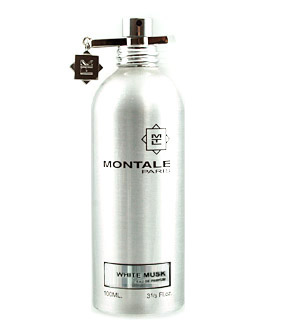 MONTALE WHITE MUSK (ca. 2003-2005)
The style of this composition by
Montale Parfums
is oriental, even literally Middle Eastern, evocative of a noisy, bustling bazaar, as befits the brand located on Place Vendôme in Paris yet also hailing from Saudi Arabia. The whiteness or transparency of the musk is conveyed, in part, by aquatic fruits and an ozonic touch, only appearing in discreet filigree.
The perfume is subtly fruity, crisp, a bit green, and floral. An understated signature touch of exotic oud makes the imagination travel to Middle Eastern lands. The white musk accord becomes milky then offers a very velvety finish.
Also worth checking out by Tova devotees.
Notes: White musk, violet leaves, ylang ylang, geranium
Available at Aedes and Luckyscent for $95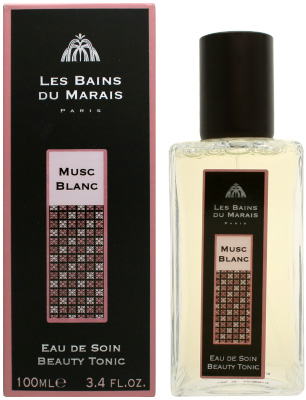 LES BAINS DU MARAIS MUSC BLANC EAU DE SOIN - BEAUTY TONIC
This white musk by trendy spa brand
Les Bains du Marais
located in the Marais district in Paris is a simple expression of white musk, more transparent than powdery. Its neutral character and true lack of ornamentation may win over people who are looking for something really simple.
Good for sunny climes and sensitive skins as well since the formulation does not contain alcohol. Being a spa brand, a line of hammam-inspired perfumed ancillary bath products is one more reason to try it out.
$68 for 3.4 fl. Oz at Beauty Encounter
LE PALAIS DES REINES - HUILE DIVINE - MUSC BLANC (ca. 2003)
This very confidential white-musk massage perfume oil, which I discovered this summer, was inspired by the brand founder's love of Moroccan culture.
Jane Lanckbeen
says she took great pains in selecting the right blend of white musks and describes it as being "unusual".
It is a light spicy floral white musk with a marked lilac nuance, which takes on a decidedly Middle Eastern connotation, especially with it mingling with the fruity-woody aroma of one of its carriers, argan oil. It smells not only of white musk but of the perfumed oils seller's boutique in the souk and a bit of his cousin's grocery store as well. Argan oil smells like leathery ripe green olives. The drydown evokes an archetypal white soap. When you compare it to
Laurence Dumont Musc Blanc
, this is when you realize that the first one is archetypal and the latter, literal.
The scent is carried by both argan and apricot oils for a full-on musky massage or just to apply on pulse points.
Available for 20 Euros at
Le Palais des Reines
IL PROFUMO MUSC BLEU (2004)



The blue color in the name of the perfume by
Il Profumo
, Blue Musk in English, is a reference it appears to the subtly icy snowy first impression released by the scent. It evokes on the horizon the snow-capped Himalayan mountain range taking on the olfactory and visual suggestion of blue peppermint, as in a bluish-blue painting by Nikolaï Roerich. Who would have thought that glacial and cold could be that dreamy and intriguing?
The composition is also delicately powdery and floral (black geranium, cyclamen, ylang-ylang).
Musc Bleu is a well-balanced perfume and is especially winning for its admittedly middle-road quality of versatility, which it achieves to perfection. It is in this respect intensely appropriate for all occasions. Somehow it comes across as the easiest white musk perfume to wear on a daily basis.
Tova signature lovers should also give it a go.
Notes: Neroli flower, oak moss, moss flowers, woods, Ylang-Ylang, black geranium, white sandalwood
Note: this review is for the eau de parfum concentration, not the absolu.
Available for $135 at Luckyscent and at Il Profumo Shop