Musk Hall of Fame: A List of the Best & / or Most Talked About Musk Perfumes {Perfume List} {Perfume Short (Reviews)}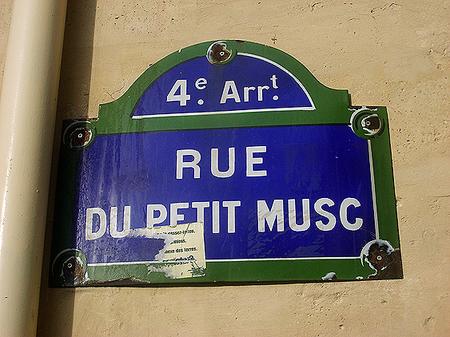 Rue du Petit Musc in Paris 75004. The evocative name refers not so much to musk as to ancient brothels. © The Scented Salamander
A Musk Hall of Fame
Without further ado, here is our Musk Hall of Fame List which offers short and longer reviews of famous musk perfumes, as well as of our own very favorite ones.
The world of musks can be divided fundamentally into Clean Musks and Dirty Musks.
• Auric Blends Love

A subtle, clean, yet warm musk oil perfume with woodsy undertones

• Auric Blends Egyptian Goddess

The most popular perfume in the line - it is a mild sexy floral Egyptian musk which blooms beautifully on the skin, making you think of natural flowers.

• V'Tae Egyptian Garden

It smells like a musk perfume from the Egyptian antiquity would, steeped in herbs, mysterious unguents, and secret macerated formulas. Of course, it used to be worn by a high Egyptian priestess: it evokes the honey, date, and almond effluvia that wafted from her well-oiled and well-massaged body. Longevity is so-so.

• Gap Musk

A clean discreet, and lightly sweet white musk oil.

• Coty Wild Musk Oil

The oil, we think, is better than the alcohol-based versions. A sweet woodsy musk oil reminiscent of high school dates for many people.

• Kiehl's Original Musk Oil

This is another classic musk oil that we also prefer in the oil-based formula. Update: as of 2014, we'd say the Eau de Toilette is best if you prefer a slightly dirtier musk. According to the brand, it was discovered abandoned in a turn-of-the-century to 1920s vat labelled "Love Oil" in the basement of Kiehl's, established 1851. Everyone went crazy for it decades later. A musk oil with a marked floral lily-of-the-valley facet, which is a natural phenomenon associated with musk in small quantities...
A full review of Kiel's Original Musk Oil is now published on the blog.
• Bourbon French Musk
This is reported to be a world-famous musk made in the French Quarter in New Orleans. They also boast about their jasmine scent and since the latter we did sniff and had to acknowledge its distinctive presence, we think the musk oil won't leave people indifferent.

• The Body Shop White Musk Oil

A classic. It has been issued in alcohol-based formulas but we stick to our preference for the oil-based one. A clean musk. We prefer the Japanese Musk Oil from the same brand (discontinued.)

• The Body Shop Japanese Musk Oil

A sharper, woodsier, and slightly more complex musk than the White Musk.

• Alyssa Ashley Musk

A leathery and soapy musk that initially seemed to smell like the real thing but ultimately betrayed its fabricated nature. It is too synthetic and might even make you feel ill at such pretense.

• CB Musk Reinvention

From memory: a greasy, unkempt musk that signals danger and a prowling presence in the dark. There is a suggestion of mental sickness and criminal intent - a very unsafe musk.

• Narciso Rodriguez for Her

A lovely, feminine, and sexy musk with creamy floral and dewy jasmine facets. A terrific dry-down that is subtle, lightly floral, and almost beach-y. A bestseller.

• Sarah Jessica Parker Lovely

A lovely clean floral and musky chypre - and a bestseller. It is close to Narciso Rodriguez for Her, but slightly less fruity, slightly more heavily textured.

• Jacomo Jacomo for Her

Animalic cedar combined with musk makes it a great courtesan skin scent, see review.

• Worth Courtesan

Musk and powdery cocoa, see our review.

• Alexander McQueen Kingdom

A reasonably excessive musky and sweaty perfume (cumin, cedar) that plays with the rules of polite washed society without truly trespassing them. It has a fresh facet to it and a subtle quality, which make it clear it adheres to mainstream clean values. For some it epitomizes hedonism and furiously unmade bed sheets.

• Gucci Eau de Parfum

Because of the cumin note, see our review.

• Réminiscence Musc

We tried it once briefly and immediately turned back our attention to the Patchouli scent from the same line, which is also their star product. Muskier sometimes does not mean necessarily sexier.

• Bruno Acampora Musc

This scent is reportedly considered to be one of the best, or even the best in its league. It is a musk that is greasy, chocolate-y, woodsy, heavily-textured, and leaning towards the masculine. It is a solid musk to our nose, but ultimately it did not wow us, being too structured, a bit blocky, and not sinuous enough. An enthralling musk scent should have more of a serpentine, slithering, mysterious quality.

• Serge Lutens Clair de Musc

At first a white musk that seemed a bit too classic and devoid of originality for a Serge Lutens, but which is in fact a subtle transparent crystalline musk that marries beautifully with whisper-soft floral notes (neroli, Tuscan iris, jasmine, rose...) The musk is vegetable and borrows this facet from ambrette seeds. A refined rose and musk fragrance as soft as the tactile sensation of a rose petal on the skin.

• Lorenzo Villoresi Musk

A powdery floral and sweet musk perfume that we liked less than Teint de Neige made afterwards five years later (2000), with which it shares powdery notes. Although rather feminine-smelling at first blush, it is favored by men as well. It used to be a favorite of Brad Pitt's.

• Frederic Malle Musc Ravageur in edp and oil

See reviews

• Les Néréides Musc Samarkand

See review

• Les Néréides Musc de Java

A soft fruity musk with berries, and blackberry in particular, inspired by the famous blackberry and musk combination inaugurated by L'Artisan Parfumeur in 1978. At the start it is less subtle than Mûre et Musc, albeit pleasing and charming and softly alluring on its own. But the dry-down might win some over as the L'Artisan has moderate longevity and depth.

• Les Néréides Fleur Poudrée de Musc

The dirtiest one amongst Les Néréides collection of musk perfumes. At first, you take in the scent of an elegantly powdered lady as you are walking on the street and end in her alcove among the crumpled sheets with a vision of nude silk stockings negligently thrown on a lacquered windscreen.

• L'Artisan Cologne Mûre et Musc (Eau de Toilette)

Opens on a salty and peppery armful of crushed leaves and berries. Becomes musky, dry, and fresh, with green and blackberry notes remaining. A subtle fresh musk fragrance that feels like one is taking a stroll in the underbrush in the dewy morning. Unfortunately the promenade, like the early morning hours, do not last enough.

Our Favorites, which merit longer reviews if not yet fully reviewed on the blog:
• Les Nez L'Antimatière
A complex musk or more to the point skin perfume that reaches a rare psychological depth. The smell of time and the skin of close relatives and lovers transferred onto leather and clothes. See review.

• Guerlain Pamplelune

An intoxicating and elegant grapefruit and musk scent that wafts of the animalic and acrid facets of the grapefruit. It smells embarrassingly (especially in the US), yet delightfully so of an un-showered body. See review.

• Diptyque L'Autre

A refined spicy sweaty dry musk. It delicately exudes the smell of an unwashed men's shirt.

• Serge Lutens Muscs Koublaï Khan

Kubilaï welcomes you in his ger or tent in the middle of the steppes, whose ground is strewn with precious silken Persian carpets decorated with garden-of-paradise motifs and alighted fragrant rose petals brought from afar. His sweat is complex and very refined and smells as precious as gold. You share a drink of kumiss with him poured in leather vessels circled with rare metals and are not loath to getting a bit closer to inhale him in more.

• Shiséido Féminité du Bois

This is a closet musk perfume, which evokes pearly, elegant sexy sweat under an urbane demeanor.

• Santa Maria Novella Muschio Oro

An unusual powdery musk perfume that is as light as fresh water and luminous as the halo of saints in a Florentine Renaissance painting. Liquid ancient gold.

• Santa Maria Novella Muschio

A spicier, drier, more masculine powdery musk than Muschio Oro with overtones of licorice, licorice-y caramel, aniseed, Pastis and a suggestion of turpentine. Manet might have worn it in his streaked overalls while seating in a Parisian café drinking absinthe.
• Annick Goutal Musc Nomade
See review
This list is a start and will obviously need to be updated by you, me and the industry pace of launches.
Added Entries:
• Parfum d'Empire Musc Tonkin
The fragrance is fully reviewed here. This ought to be smelled for its attempt at emulating vintage musks and the mythical aura of natural deer musk of the best grade quality.
Photo of the Rue du Petit Musc in Paris by The Scented Salamander, Musk Oil from Kiehl's.