Annick Goutal Musc Nomade (2008): The Inner Orientalist Motif {Perfume Review}
A Precious Rendition of Musk
With its name vascillating like a flame in the direction of Serge Lutens Muscs Koublaï Khan, you might have expected Annick Goutal Musc Nomade to smell like what your imagination of a nomad of yore conjures up, one who faithfully and with great discipline would disregard the distinction between the clean and the unclean as Koublaï Khan once ordered it. If Muscs Koublaï Khan may suggest some of the martial hardiness of the mores in the steppe region of the center of Asia, Annick Goutal Musc Nomade only keeps that other facet found in the first fragrance: an idea of preciousness linked with the utilization of musk experienced as a much sought-after aromatic material purloined from the musk-deer for centuries by nomads who would trade "musk-bags". Musk and its adjective "musky" may point to a certain roughness of style, a naturalness that is borderline offensive especially in North American culture today, but at the same time, it is also the musk of luxury brought back from distant lands with its ascribed aphrodisiac, soothing, beautifying and gustatory properties. The other side of musky as in the French word "musqué" is that it came to mean at one point the reverse of what the ring of the word "nomad" seems to contain, that is an excess of affectation and also coquetry betraying foppishness in 19th century France......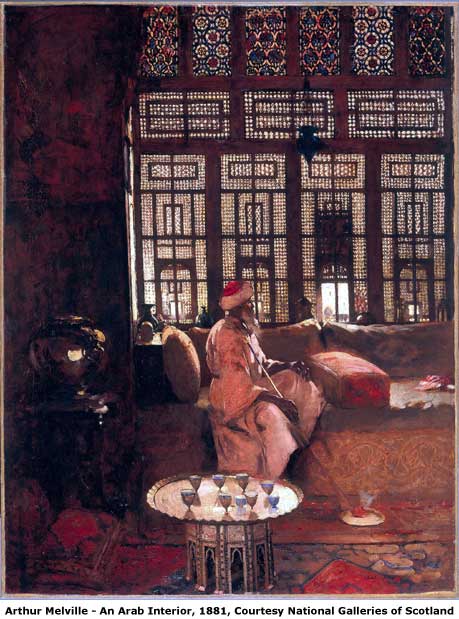 Musk Contained & Saturated

To compose Musc Nomade, which is the fourth perfume in Les Orientalistes collection (see review of Ambre Fétiche, Myrrhe Ardent and Encens Flamboyant), Camille Goutal and Isabelle Doyen were inspired by the aroma of musk powder mingling with rose essence perfuming the hair and bodies of modern Qatar princesses, their customers. Another source of inspiration is the oud that the Arabian princesses burn in their palatial interiors. The composition, as we see it and as a result, develops as well as the precious quality mentioned above - the word came to us only after a while - a saturated quality. The distinctive general impression is one that suggests that the musk, rose, oud, incense, and herbs one smells in the perfume are never free-flowing in the air but come mediated, as their scents are held captive in another material, be it rich hangings, leather ottomans, sensual hair, or warm skin. The musk leaves its trace on the surfaces of polite society.
The perfume is also about musk come in contact with the trappings of sedentary civilization; it thus leaves a lingering yet refined trace, valued for its tenacity, its suggestion of eroticism, and for its animalistic appeal that bespeaks of open nomadic spaces within closed urban walls.

Isn't perfume after all a suggestion of a life that is lived on a grander more ideal scale in our imagination?

Musc Nomade (Nomadic Musk) (2008): The Inner Orientalist Motif

The musk in Musc Nomade is lightly powdery and without being clean, it is not dirty either. It travels a middle road of sensual propriety. According to the press release, "white musks" were used which feature different types of musks of non-animalic origin: synthetic Muscone, but also the woody and fruity facets of Angelica root and the soft and lactic nuances of Ambrette seed (on top of its boozy, fruity ones).
The main colorings of the scent play out from the start on a varied yet well defined palette that comprises powdery, incensey, rosey, and dry herbaly sensations (the latter can be ascribed to Bombay wood, which is a variety of papyrus). The rose is quite prominent but subdued at the same time so as to make you think that it could be interpreted as a masculine rose note with just that touch of excess found in Middle Eastern perfumes (to differentiate them from the oriental genre developed in European perfumery). The papyrus note is also there like a companion note to the rose, counterbalancing its feminine intonations.

The perfume then becomes more resinous, although the scent is in general rather linear and simplified in its effort to be a second "fur-like" skin (a little like Guerlain Cruel Gardenia in another genre) as the agarwood or oud makes its presence felt more with its dark raspberry molasses-like consistency and perfume. There is thus a certain deepening of the notes which turn a bit chocolate-y and milky at the same time (Ambrette seed). The softness of the scent accentuates also with an impression of floral amber with toffee overtones on warm skin. The fragrance is discreetly sweet, but without too much insistence on it. The longer dry-down is white musk made more refined by the addition of crushed and powdered rose petals and spices.

Musc Nomade makes us think a bit of Parfumerie Générale L'Ombre Fauve and also partly of Histoires de Parfums Ambre 114, to offer some pointers.
Middle Eastern vs. Oriental Perfumes
The Orientalist atmosphere of Musc Nomade is unmistakable. The very aromas it releases make you feel like you are inside an Arabian home or store. The Orientalist motif here seems stronger than the feeling of wearing an acclimatized oriental. To go back to our previous distinction, it smells more Middle Eastern than Oriental, more in the direction of Montale than Guerlain or even Serge Lutens, although the latter has also perfumes that seem more Middle Eastern than Oriental such as Cuir Mauresque or Chypre Rouge.

Despite its relative simplicity, Musc Nomade succeeds in telling a story and setting up an atmosphere in just a few strokes of the notes. It may not take you through all the marvels of Arabia Felix, but it allows you to catch an authentic-smelling glimpse of a few hours in that life. Musc Nomade is an intimist portrait of the Orient represented, as always, as an eternal source of sensualist inspiration.
Notes: musks, rose, agarwood, angelica root, ambrette seed, Bombay wood, Tonka bean
Musc Nomade is not yet available in the US market although it is in France. It should cross the pond this fall 2008. A 100 ml flacon is priced at 120 €.