Juliette Has A Gun Midnight Oud (2009): Adapted Opulence or an Oud for Urban Chypre Tastes {Perfume Review} {New Fragrance}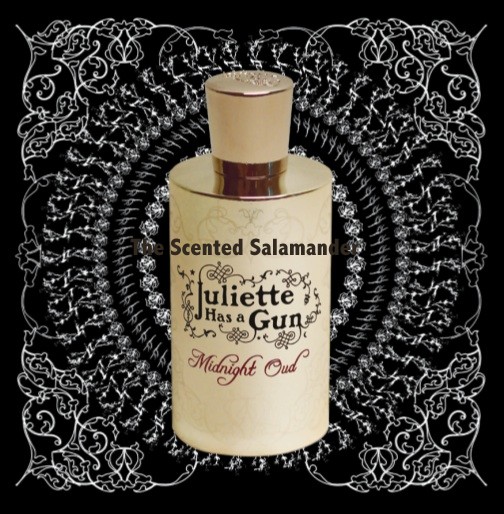 Perfumer: Romano Ricci

Perfume notes: saffron, Bulgarian rose, patchouli, musk, amber, sandalwood, oud


Midnight Oud is the latest opus by perfume house Juliette Has A Gun which defines one of the aspects of its general enterprise as "Luxury, in its spicy and singular version." Juliette's gun is nothing else but her seductive perfume of course.
Romano Ricci, founder of the label officially signs here his second composition after Citizen Queen, according to the 2009 press release (in 2008, the brand attributed the perfume to Francis Kurkdjian).

It is intriguing a priori to see a very Parisian perfume house jump head along into an arabesque exercise, without any prior warning signals or sense of anticipation. It appears even more meaningful it seems since several brands this year are tackling oud compositions (see upcoming article). Romano Ricci, the founder and now perfumer-in-title of Juliette Has A Gun, succeeding to nose Francis Kurkdjian, said


"Following Citizen Queen, Lady Vengeance, and Miss Charming, I decided to dedicate a limited edition fragrance to the Arabian soul.

Inspired by middle east's rich and sumptuous culture, «Midnight Oud» is an opulent composition. A mesmerizing blend of local ingredients, Saffron, Musk, Amber, and Sandalwood, crowned by the most evocative all, OUD. "...


Au débouché, which is more often than not the way one experiences perfume for the first time according to the extasis-bound mythical gesture of opening a perfume bottle and registering the first mysterious hints, the initial impression from Midnight Oud is that it smells expensive. This does not mean much in and of itself as it is a curious metaphor for a fragrance facet which is not usually referred to by perfumers as a willed effect.
To subvert the more classic family classification of fragrances and to say that a perfume smells characteristically expensive is like alluding to a secret base no one ever mentioned officially, a headspace before its time, of a luxurious hotel lobby or restaurant gorged with the effluvia of fancy food, women's perfumes, wine, tobacco, and silk on petal-soft skin.
More often than not, chypre fragrances are the vehicles for that sentiment of class. In Midnight Oud, there is the vertical superposition of two rich class-connoted Western and Middle-Eastern olfactory codes: chypre and oud. The interpretation is more Western opulence than Oriental opulence, a discrepancy that exists as well in cultural perceptions of luxury in those differing value systems.
What is satisfyingly rich in an Arabian context would appear showy and nouveau-riche in an ideal-type Western context and what would appear luxurious in Western manners or code might appear lacking in ostentation and display of generosity from a Middle-Eastern angle of perception.

One thing I have noticed and written about before around a Chanel Exclusif is how some chypre perfumes literally smell of the co-mingling of scents floating above the linen tablecloth after a French meal spent in elegant company. This is for the French, Western cues. Oud on the other hand is the expensive material for the Middle East of which we are seeing a centrally defined adaptation here. It is not used like an invisible touch as I believe it was done (to be verified), in Nina Ricci Deci Delà. It is not even masked semantically as in Yves Saint Laurent M7. Midnight Oud is advertising oud as its central motif, like many other upcoming fragrances in 2009.

Oud is rare, extremely expensive but is now also being harvested in the forests of South East Asia by infecting trees on purpose to create the immunological reaction needed which will translate into the dark organic matter with the much sought-after complex bouquet. It has obviously become more readily available recently, although some brands like Pierre Montale and Arabian Oud are well-known for specializing in the many variations around this cult raw material, for a Western audience.

There is therefore from the initial take and inhale an expectation that Midnight Oud is going to smell like a rich Arabian tapestry, a deepening feast for the senses. The visual offered by the house now makes sense. Yet the following sequences tend to offer a light, restrained oud interpretaton, one that has been visibly adapted to Western urban tastes rather than made to impose a new tone and depth by significantly pushing the barriers of polite sensation.
Where oud here appears to be more itself is when it sinks in more deeply into the skin to finally reveal the deep texture and black-radiating-sun effect that I tend to detect in oud. Midnight Oud captures some characteristic nuances of oud, like the raspberry cognac one, the wet leather one, or the slightly camphoraceous and musty library smell one, but they speak amiably rather than intrude, all of those being folded into a harmonious smooth ambery body with sweetish tones. I suppose I expected slightly more inferno and flame-licking of the feet, and oud with more frisson.



How It Smells


The perfume opens on a liquorish-y brandy-like raspberry and a chocolate-filled-with-cherry-liquor patchouli leading to a hay-like oud soon shedding some these dry herbal nuances to resonate more like a gilt bronze bell, with the rich nuances of the material going in the direction of an intense ambery syrup with a hint of caramel. The brew betrays flashes of metal which soon are followed by the feral cues of a leather note both impossibly crisp and wet and the more animalic, pungent aspect of oud with a hint of a top note of narcissus and a smidgeon of a fecal nuance. The leathery accord invites you to travel in imagination to Middle Eastern lands where skins used to cover cushions preserve the raw smell of hide mingling with floral essences. It smells of Moroccan leather. Underneath the oud accord there is a more classic rose chypre impression warmed by the ambery accents of labdanum. A ribbon of vanilla unswirls adding a touch of sweetness to the blend, and even light cacao accents. I am reminded of the rose perfume by Fresh, Cannabis Rose.

The construction of the scent was not especially made to project complexity although there is obviously complexity involved otherwise it would just smell crude. Midnight Oud is a rather spare, in my view, simple, modern and versatile oud. Perhaps one reproach one could make is that its clear preoccupation with wearability subordinates the material to an idea of functionality. One could go to this oud rather than to a Montale if you were looking for something even easier to wear than the Westernized grade one finds in Pierre Montale's perfumes.

Midnight Oud is pleasant and finally, effective, especially where the warmth of oud is concerned. The structure tends towards linearity and also betrays a certain thinness where one expected depth and opulence more readily in reference to the mythical aura of oud. But I think it is fair to say that it is a charming, medium-body to light oud that people who love simple, non-ornate fragrances will appreciate the most. It may seem to be a bit of an oxymoron to be on the lookout for a light oud (less so in the summer), but if the thought crossed your mind, this is one to try.

The drydown literally comes darkly aglow with oud. It may not be at the level of a rare Arabian perfume, but it is enough to make you live the experience of a material that seems to come alive once it is in prolonged contact with the skin. There is a slow heightening sense of power. The material quality in general is good. The composition still maintains a simple, straightforward signature. It is really an oud perfume that seems to match minimalist, expensive clothing design rather than a baroque, ornate outfit. A little bit like an oud for architects dressed in black -- and they are almost always dressed in black as if to reflect their love of simple, abstract solutions. I cannot get over the understated oud persona of the perfume. Perhaps I am used to stronger and/or more complex sensations as it is all a question of knowing what your olfactory gradient is and where your expectations lie. The expensive signature sillage is that of a shimmering chypre more than that of a moiré oud.

A 100 ml bottle is priced at 98€. The perfume is available at Colette, Bon Marché, Printemps, Taizo, Selfridges, Faces, Paris Gallery, Sephora.