Montale Patchouli Leaves: Black Sun {Perfume Review}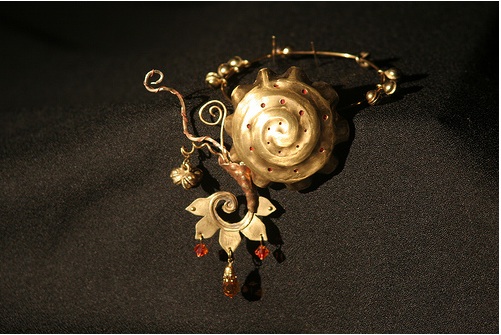 Patchouli anklet by
Tonya Maria
: "This piece was designed around my research and experience with people's love/hate extreme reactions to patchouli. 90% lovely smooth surfaces, with euphoric swirls vs 10% bumpy undesirable cone shape protruding out from beneath with curling twisted tendrils creeping up like scent to a nose." [...] and amber and orange colored droplets symbolized the colors of the oils the plant produces when leaves are distilled to make the fragrance."
Pierre Montale perfumes
for me are remarkable for their ability to convey an impression of richness, that is, for the best of them. If you are dreaming of wearing a precious potion that unfolds on the skin like a rich brocade threaded with hints of precious metals, then it is a good bet to direct your steps, or fingers as it is in the digital age, to a Montale sales point. Montale fragrances to me are not into being in the vanguard of perfumery creation, but they do know on the other hand about quality and betray an uncanny ability to pick up intuitively on the untiring human quest for luxury...

Patchouli Leaves
I experience as an exacerbated
George Sand by Maître Gantier et Parfumeur
or a black, tarried version of
Opium by Yves Saint Laurent
for the patchouli and amber chant it seems to sing. I am not talking about the similarities in the compositions but in these, mostly, two main olfactory facets. One thus recognizes those previously encountered atmospheres but as if they had become saturated with dark, brooding pigments and thick textures and a sense of deepening of what right luxury ought to smell like. The scent is not ostentatious but it does suggest an inborn appreciation for finer and weightier textures.
I perceive it also as a dry patchouli leaves syrup (it is sweetish, but not chocolatey -- more Coca-Cola-like), that said in a positive manner, which means that perhaps, it hints at the idea that other patchouli scents have had clear water added to them. But this is an illusion because they are not exactly constructed the same, nor have the same goals.
Montale Patchouli Leaves is particularly good at bringing home to you the idea of how those 19th century Kashmir shawls brought back from India in ships and trunks from overseas must have, or rather ought to have smelled like it with their subtly dry and camphoraceous aromas (patchouli leaves were used to keep moths at bay). You have a thought for George Sand and become more directly understanding of her addiction for patchouli. Then when you get a chance you thumb a book and can read again about her pressing request put to Alfred de Musset one day to bring her back patchouli bought at Leblanc's on the rue Sainte Anne, the very best (to her).
We are a far cry away from Woodstock and the dishevelled 60s. This is a patchouli scent that has been excised of its anecdotal headshop reference to go back to the simple and sensual impression of a patchouli perfume treated almost like a "soliflore" or one-note perfume . Yet, there is this psychedelic impression on a warm sunny day outdoors of a black sun gently warming up on the skin radiating its dark amber-y rays and it feels, by analogy, entirely appropriate as a spring-and-summer perfume.
Notes: Patchouli leaves, vanilla, amber, white musk, Tibetan cystus ladaniferus.
You can find it at Aedes